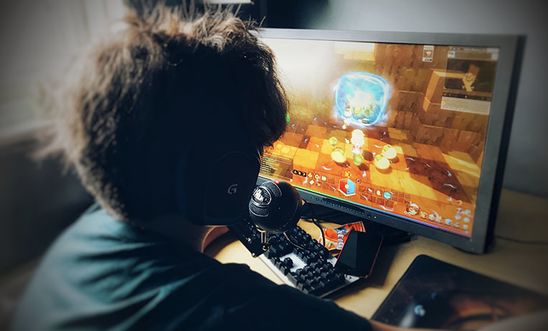 Video gaming with friends is a great way to stay connected at a time when we're all keeping our distance. What's more, you can play your favourite games whilst fundraising for Amnesty International UK and give our human rights work a vital power-up. Whether you're a beginner or a gaming pro, play for Amnesty International UK and humanity wins!
As easy as Ready, Set, GAME!
Here's how to get started:
Get your team together or go it alone
Choose your event and set a date
Play, stream or party and get sponsored
Need some inspiration?
Here are some fundraising gaming ideas you could try:
Stream a gaming marathon – connect with friends and stream over a 24-hour period (taking it in shifts)
Set up a speedrun – see how fast you can complete your favourite game or a particular level.
Have a knockout tournament – games like FIFA, Mario Kart and Call of Duty work well for this. 
Fundraising
Once you've decided on your gaming event, you'll need to set up a fundraising page to collect donations. We recommend Just Giving:
https://www.justgiving.com/campaign/gamingforamnesty
Personalise your page with an image of your own, write why you're gaming for Amnesty International UK, add the names of team members and set your fundraising target. 
Read about how the funds you raise will help us to support the most vulnerable in society during the Coronavirus pandemic and beyond. 
Streaming
If you're streaming your event you can use:
The choice is yours!
Promoting online
In the run up to your event, use your social media platforms to promote your event. We can provide you with branded images to use on various platforms. You can get in touch using the contact details below to request materials. 
Win Rewards!
We appreciate you putting your gaming skills to good use and raising funds for our human rights and have a reward system for those of you that have a competitive streak, and love something bright!
• £100+ Bronze Amnesty badge of honour
• £250+ Silver Amnesty badge of honour
• £500+ Gold Amnesty badge of honour
• £1,000+ Mystery Prize! (+ Gold badge of honour).
As our Gamers launch into competitive mode, we will also instigate a leaderboard!
Play safe
We love that gaming is an inclusive activity, which can be enjoyed by people of all ages and abilities. However, as with many fundraising activities, there are some things to be aware of in order to stay safe:
Please ensure that the game you're playing is age appropriate for everyone taking part. You can consult PEGI guidelines to check if the game you're playing is suitable. 
If you're taking part and under 18, please make sure you have consent and supervision of a parent or guardian.
Take regular breaks. If you're streaming a marathon, make sure you switch out with other players and rest.
Give your eyes a rest – make sure to focus your eyes elsewhere at regular intervals to avoid eyestrain and keep blinking! We forget to blink when looking at screens and it can cause eye irritation.
Stay hydrated
Eat regular, healthy snacks
If you're playing a game rated 18+ for your stream, make sure that it's appropriately marked.
If you feel uncomfortable, unwell or for some reason can't go ahead with your gaming event, then stop. Put your welfare and needs first.
We're here for you
We can provide further support and ideas as well as digital gaming materials so get in touch if you need anything. Just email team@amnesty.org.uk or call 020 7033 1646.