Bristol
Serving the local community for 25 years, our popular second-hand bookshop is an established part of the Bishopston scene, and a must visit destination for booklovers in the area. Known as one of the best (and friendliest) bookshops in the west, with ever changing stock thanks to generous donations, it's always worth stopping in for a visit.
Opening hours:
Monday-Friday: 10am - 4.30pm
Saturday: 10:30 - 5pm
Sunday: Closed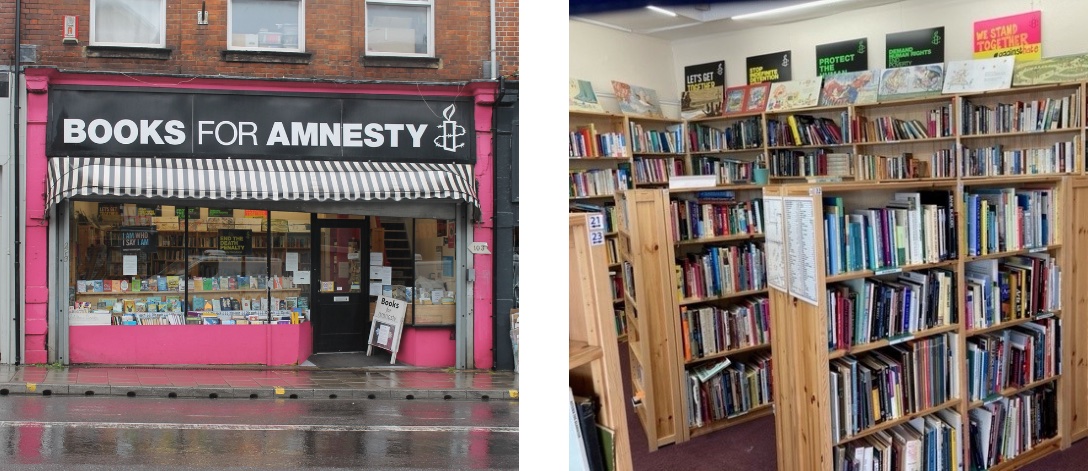 As well as a warm welcome, you'll always find a wide range of good quality, second-hand books. Whether you are looking for modern fiction, classics, social sciences, art, poetry, drama, history, foreign language or children's books, there is plenty to browse here. Plus, we offer CDs, DVDs and vinyl, and have a good selection of sheet music. For Christmas, we also stock a small ethical gift range including Amnesty cards, calendars and diaries.
Donations help us keep our stock fresh and relevant, so if you're thinking of donating to us, we'd love to hear from you. Please refer to the donation section below.
We are always looking for people to join our volunteer team. If you want to learn more, please click here or pop in for a chat.

---
Follow Us:
To stay up-to-date on the very best of our new arrivals, as well as the latest news and promotions, follow us on:

 @booksforamnestybristol
@BooksForAmnestyBristol

@AmnestyBooksBrs
---
Events and Promotions:
Our shop often gets involved with local events and offers promotions. Be sure to check in regularly to see what's on offer – or follow our social media accounts for the latest news. 
---
How to find us:
103 Gloucester Road
Bishopton
Bristol
BS7 8AT
The shop is located on the A38, about a mile north of the city centre, opposite a small post office.
---
Accessibility:
There is some parking on the roads surrounding the shop, but it should be noted that parking outside the shop, is limited to one hour and permitted 9.30am - 4.30pm only. 
The shop floor is accessible to wheelchair users.
---
Donations & Collections:
We welcome donations of good quality books, we also happily accept Vinyl, CDs, DVDs, Sheet Music & National Geographic. 
 
Donations of three or four small bags / boxes are welcome at any time, for larger donations please call the shop ahead of visiting. This way, we can confirm that we are able to take it and arrange a convenient time for you to visit. On arrival at the shop, you will be asked to place your books into a crate and take away your empty bags / boxes.
 
We also offer a local collection service for sizeable donations and can accommodate most requests within a few weeks. Please use the contact details below to make arrangements. (Note 9th December 2022: Currently, we will not be able to organise any more collections until January, thank you for your patience!)
---
Buy online:
Can't make it to the store? Or want to see more? You can also buy books stocked by The Amnesty Bookshop Bristol on Abe.co.uk. 
---
Contact us:
If you want to get in touch about any of the above or have any other questions, we'd love to hear from you. 
Email us: bristolbookshop@amnesty.org.uk  
Phone: 01179 422 969
Book collections: 07787 424 541 (during shop opening hours only).
Or pop in to the shop, where you'll always find someone who's happy to help.