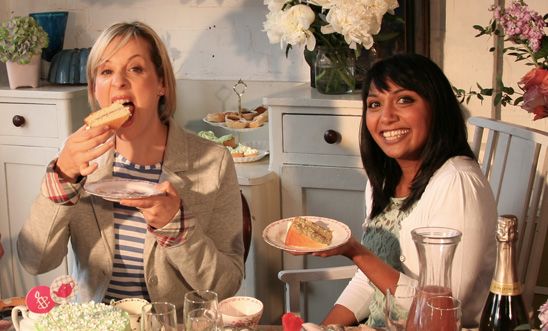 Amnesty supporter Mel Giedroyc tucking into an AmnesTea! © Amnesty International
Invite some friends, brew a pot of tea, bake a cake and raise money to fight human rights abuses around the world.
Cake stalls, tea parties and coffee mornings for human rights
The idea behind AmnesTea is simple: bake some cakes, get some people together, put the kettle on and raise money for Amnesty International's human rights work around the world.
Every year hundreds of Amnesty supporters do exactly that – and last year raised over £17 000 for our vital research and campaigning work. It's amazing how much a humble cup of tea can achieve!
An AmnesTea can be big or small, elaborate or intimate - and you can host it at home or at work, in your school, university or place of worship. You could organise one within your local Amnesty group, or open it to the public. Have a traditional 1950s-style tea party, or organise one in your local pub and serve cocktails with your cakes. Ask a few friends to bake cakes to sell at school, or simply collect donations for Amnesty at your next church coffee morning.
The possibilities are endless, and no contribution is too small.
Plan your AmnesTea
Pay in your AmnesTea funds
When your guests have gone home, you have eaten the remnants of cake and drained your teapot, it will be time to send in the funds you have raised.
Alternatively send them via cheque or postal order to our Supporter Care Team in our London office. Remember to include your name and address and tell us how you raised the money.
Post funds to:
AmnesTea
Amnesty International UK
The Human Rights Action Centre
17-25 New Inn Yard