Ambassador of Conscience Award 2017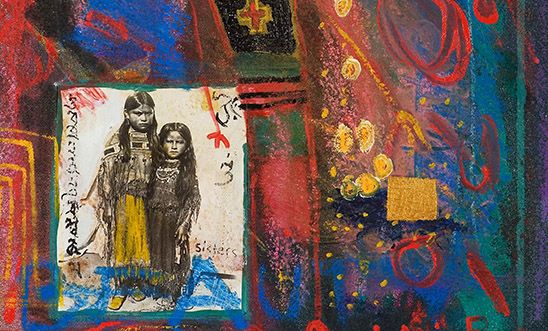 Sisters-Storm, 1999 by Jane Ash Poitras. 2017 Ambassador of Conscience Artwork. © Jane Ash Poitras
Every year, the Amnesty International Ambassador of Conscience Award celebrates individuals and groups who speak out for justice.
The recipients are people who have used their talents to inspire others to fight for human rights. The award also aims to create debate, encourage public action and raise awareness of diverse human rights issues.
In 2017, the prestigious award will be shared between celebrated global music artist and activist Alicia Keys and the inspirational movement of Indigenous rights activists campaigning for change in Canada.
'Our conscience is something we are all gifted with at birth, no matter who we are.'

Alicia Keys, singer-songwriter and 2017 Ambassador of Conscience
Alicia Keys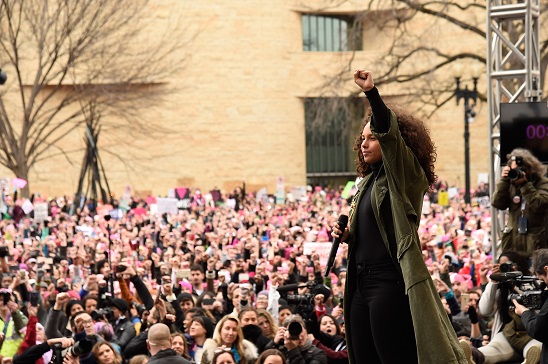 Alicia Keys speaks onstage at the Women's March in Washington on 21 January 2017 © Kevin Mazur
Alicia Keys has used her career and platform as a 15-time Grammy award-winning artist to inspire and campaign for change. Often referred to as the "Queen of R&B", Ms. Keys has increasingly interwoven her activism with her art. 
Stunned by the fact that there are now more refugees in the world today than at any other point in history, the musician helped create and appeared in a short film entitled "Let Me In" to mark last year's World Refugee Day. With her song, "Hallelujah" at its center, the film brings the issue of the refugee crisis home to viewers by telling the powerful story of a young American family forced to flee to the US-Mexico border. 
In 2014, she co-founded the We Are Here Movement to encourage young people to mobilize for change, asking the question "Why are you here?" as a call to action. Through the movement she has sought to galvanize her audience to take action on issues such as criminal justice reform and ending gun violence.
Her extensive philanthropic work includes co-founding Keep a Child Alive (KCA), a non-profit organization providing treatment and care to children and families affected by HIV in Africa and India.
The Indigenous rights movement in Canada
Indigenous rights activists in Canada: Ambassador of Conscience Award winners 2017 from Amnesty International on Vimeo.
Despite living in one of the world's wealthiest countries, Indigenous women, men and children are consistently among the most marginalized members of society in Canada.
Now, after decades of public silence and apathy, a vibrant and diverse movement of Indigenous activists has captured the public attention.  
Accepting the award recognizing the Indigenous rights movement of Canada will be six individuals representing the strength and diversity of the movement, which has bravely fought to end discrimination and ensure the safety and well-being of Indigenous families and communities. They are Cindy Blackstock, Delilah Saunders, Melanie Morrison, Senator Murray Sinclair, Melissa Mollen Dupuis and Widia Larivière.
'Receiving such a prestigious international award is an acknowledgement of the work done by thousands of people who have, in their own way, stood up every day for the rights of Indigenous Peoples in a spontaneous and peaceful citizens' movement.'

Melissa Mollen Dupuis and Widia Larivière