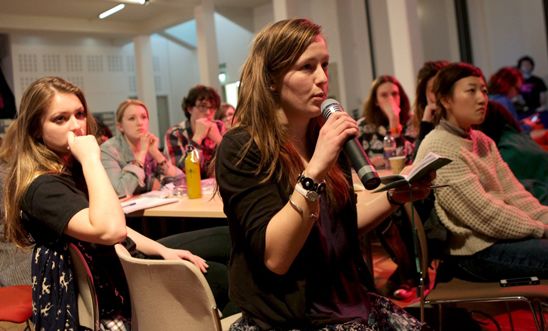 © Marie-Anne Ventoura
Friday 28 February - Saturday 1 March 2014
Action for Change is the essential introduction to activsim for students. Every year we host two days of intensive of workshops, talks and debate sessions at our London headquarters. And all for the cost of a £5 refundable deposit.
'Such a wonderful weekend! Great mix of education, action, reflection, discussion and practical tips!'
Delegate at last year's Action for Change
Booking is now closed for this year's Action for Change.
Is it for you?
This event is ideal if you are a member of a new Amnesty group or have recently joined your group's committee. Think of it as a 'one-stop-shop' for activism training - a kind of Amnesty bootcamp!
If you're a member of an Amnesty student group, this is your chance to quiz our experts and get the low-down on how to run great campaigns. We'll run sessions on all the elements of campaigning and equip you with invaluable skills - from how to secure media coverage, to how to make your MP really listen to what you've got to say.
Sharpen your campaigning skills at a range of interactive workshops
Hear what we're planning to work on in the coming year
Take part in a campaign action which you can replicate back on campus
Network with your STAN Committee rep and Amnesty groups from your area
What you need to know
Dates: Friday 28 February and Saturday 1 March 2014
Location: Human Rights Action Centre, London EC2A 3EA
Cost: £5 deposit - we'll refund this when you arrive
The event will start at 1pm on Friday 28 February and finish at 6.30pm on Saturday 1 March.
We provide free crash pad accommodation on the Friday night (essentially indoor camping in a sports hall), and free food throughout the event.
We are asking delegates to pay a £5 deposit when they book; this deposit will be refunded in cash on arrival at the event.  
If you have any questions about Action For Change please get in touch with our Community Organising Manager, Hannah Shaw:
Email: hannah.shaw@amnesty.org.uk
Phone: 020 7033 1591