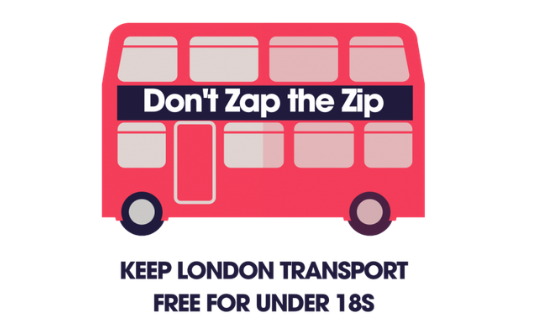 The Government have announced they will scrap the zip card - which offers free transport for under 18s in London.
The move comes as part of the COVID-19 bailout package for Transport For London - and the Government believes it will stop overcrowding on trains and buses ahead of schools reopening in September.
This seems to make sense, except, doesn't the link to overcrowding suggest it will - and is actually intended - to stop young people getting transport to school?
We'd imagine that the aim here is for people who can walk, to walk. Fine - but what about people that can't? A lot of young people don't live walking distance from their schools, and a lot of people won't be able to afford to pay for the transportation themselves. The fact 37% of children in London live in poverty (around 700,000 individuals) is a travesty in and of itself - but it also highlights the fact that removing free transportation is going to leave a lot of children simply unable to attend school.
This is where the #DontZaptheZip campaign comes in. Set up by school children who will be affected by this change, the campaign seeks to pressure the government to reverse this decision.
Katherine Walton, chair of the Children's Human Rights Network, interviewed Olivia Faria, who started the campaign.
In your words, what's the problem that your trying to change?
I want the government to prioritise young people. To care about us, and to not use us as an financial opportunity. More specifically, I am trying to keep free travel for under 18s. So many young people need free public transport. Not everyone can afford to pay for travel, or have a car they can use or live close enough to walk to school. This plan is not viable; it only is appropriate for those who can afford this change. In 2019, over 800,000 children were living in poverty. It is impossible to expect the youth to pay to travel when they so heavily rely on it.
Why do you think this is the area where the government has chosen to make financial savings?
Schools are planning to open again in September, so the government most likely saw this as a point of focus to help save money for TFL as well as keeping the numbers of people travelling on transport to a minimum (due to COVID-19). This is not the first time that children have been the victim of financial savings. Free school meals were also planning to be suspended during quarantine, though luckily this has now been reversed. It honestly is confusing more than anything because many young people can not afford these changes. Children do not make a sustainable income. We do not have a comfortable salary that we can use to pay for travel or for food. So why is it that we are being subjected to these cuts? All I can hope for is that the government rethinks their decision, and raises money through other means. Perhaps during times children are travelling to school, travel for under 18s should be free, almost similar to systems already put in place for off-peak travel on trains.
What effect will this have on the lives of children?
This will definitely impact the access to education. Unfortunately, not everyone lives close enough to their school to walk. For some families, they may be deferred from sending their children to school each day. Some may rather accept a fine for not attending school in September instead of knowingly pursuing a debt caused by paying for children's travel. It aches my heart to think even one kid could be denied an education due to this decision. Education is a right, and the government needs to prove this.
If you could say one thing to Boris Johnson what would it be?
Listen to young people. We are not the future, we are the now. We are no longer waiting until we are older to fix problems. We are making changes because we are being active in our communities. We are stronger than anyone ever thinks. Do not let this opportunity push us down. It will exclude so many of us from having a childhood, whether that be studying at school or travelling around London. You can not knowingly let this happen. Please, listen to us.
Have you used the Zip yourself and how has it affected you? Why do you think it's important?
Yes, I use the zip-card very regularly. Travelling to school each day especially. If I were to walk to school, the journey would be over 2 hours. I would have to wake up before 5am each day and would return home each day past 6pm, and that is not including any extra-curricular activities! Though, this has never been a problem for me as I know that I can get on a bus and a tram to get there in almost a quarter of the time. Not only this, but I have always loved travelling around Central London. One of my main memories as a child is travelling to Chinatown with my family and having a great time, not having to worry about paying for travel. This plan to scrap the zip-card would deny so many opportunities for children. I would never wish that on anyone.
Why did you decide to launch this campaign?
I launched this campaign because I knew I had to be a voice for young people in London. There is a sense of community with us all. I know how it feels to be stressed out by exams at school, and the joy of hanging out with your friends on the weekend. And I know what the zip-card means to us all. Being silent about what is happening could never be an option. That was when I decided to make a petition, so that there would be a specific place that people could show how much this means to them. I am so grateful that this campaign has risen so much awareness. Now let us hope that some positive change will happen; I have faith that it will.
About Amnesty UK Blogs
Our blogs are written by Amnesty International staff, volunteers and other interested individuals, to encourage debate around human rights issues. They do not necessarily represent the views of Amnesty International.
View latest posts