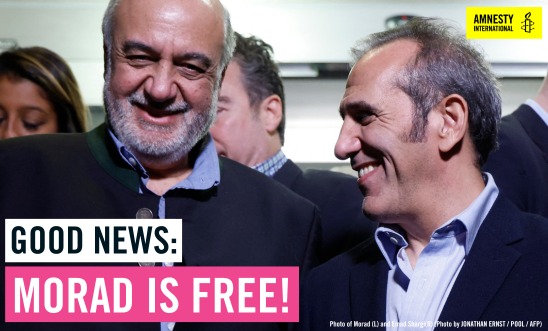 Morad has been freed
Morad Tabhaz was unjustly imprisoned in Evin prison in Iran for nearly six years. He was part of a group of conservationists who were tracking endangered wildlife in Iran. He was arrested, unjustly charged with "cooperating with a hostile state against the Islamic republic" and sentenced to 10 years in prison.
When the UK government made a deal to free British nationals Nazanin Zaghari-Ratcliffe and Anoosheh Ashoori, Morad's family were promised that he would be included too. But it was still another 18 months before Morad was freed and reunited with his family as part of a wider prisoner-swap deal arranged by the US authorities.
We had been campaigning with his family to help bring him home and on Monday 18th September, Morad and others were flown out of Iran and reunited with their loved ones in America.
Thank you to the nearly 28,000 supporters who signed the petition calling for Morad's freedom. We hope that he enjoys his freedom and as he recovers from his ordeal.
"I…learned that even in the darkest places and worst conditions, there are still good people in this world and that gave me hope." - Morad Tahbaz
This is good news, but there are still British nationals who are unjustly imprisoned abroad...
Mehran and Alaa are also British Nationals who are wrongly behind bars and held in awful conditions. Their loved ones are desperate for them to be freed.
We have been campaigning for the UK Government to do everything in its power to help free Mehran and Alaa, but UK officials are still needlessly keeping family members in the dark, and being too passive.
The Government needs to drastically upgrade its procedures to prevent more unnecessary heartbreak and suffering in cases like Morad's, and it now needs to urgently seek the release of Mehran Raoof, who's been arbitrarily jailed in Iran for nearly three years, and Alaa Abd el-Fattah, who's similarly been arbitrarily imprisoned in Egypt for almost four years.