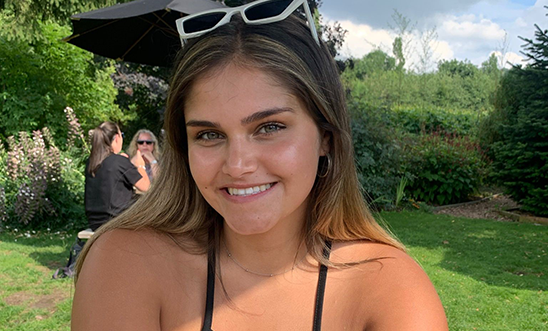 Millie Vasudevan
Millie Vasudevan writes about her experience of getting involved in Rise Up – Amnesty's programme for young people 16-24yr olds wanting to create change.
When talking to friends and family about my weekend with Rise Up, their reactions were pretty alike. "Your face simply lights up when you talk about it. We can tell you're so excited about this project," are two of the most common remarks I have received. And they're right. Despite the weekend being jam packed and despite the majority of the group having to travel different lengths to get there, one undeniable fact of the weekend was that it was fuelled and surged by a mutual energy within the group.
Coming off this weekend my brain is buzzing with questions and ideas. In the attempt of making this piece as coherent as possible and not just a messy insight into my brain, I have decided to talk about two main feelings of the weekend.
Challenged
I think one of my favourite things about the weekend was how much our mentors challenged us. Some of the conversations led to headaches because defining concepts such as power and privilege are much harder tasks than I have ever appreciated, but incredibly enlightening. The most impactful part of the weekend for me personally was when one of the mentors completely challenged the concept of my campaign. After having a slight moment of panic and imposter syndrome, I asked them for some advice. It was their challenging and further questioning which reshaped the way I thought about my campaign. With their aid they encouraged me to take it from a personal issue to a much wider one and after our ten minute conversation I felt possibly the most enthused about my campaign than I ever have.
Inspired
To summarise the weekend in one word, it would be inspirational. Every person in the room inspired me in some sort of way. As I have touched upon, the energy of the room was indescribable. There was an electricity going around all of us. Every person there was passionate and determined, with a resolve to fight for their individual cause. Despite not perhaps having the tools of knowing how to properly enact our social change, there was a sheer willingness to learn and participate. The room was also a safe space; everyone shared personal stories and was greeted with nothing but respect.
Additionally, all the mentors had achieved remarkable things in the human rights field, but they were consistently encouraging and genuinely believed in you. A bonus was that they were also genuinely funny and down to earth people. All of them made us feel as though our goals were attainable and possible.
So, leaving the weekend I am inspired, I am energised, and I feel as though I have a sharper focus on my campaign. I am also excited and cannot wait until the next October meet to see how much both my personal campaign, and my peers, has evolved since then.
More info on Rise Up
Rise Up is our campaign training programme for 16-24yr olds who want to lead creating change on the issues that matter most to them. Running between June and March yearly, you can find out more clicking here.