Thank you to Barnwood Park Arts College, Cleeve School, Gloucestershire Hospital Education Service and Severn Vale School for piloting the Words That Burn resource.
Here students from Barnwood Park Arts College and Cleeve School share their poetry written in response to Dean Atta's poem I Come From (Burn 2: being me).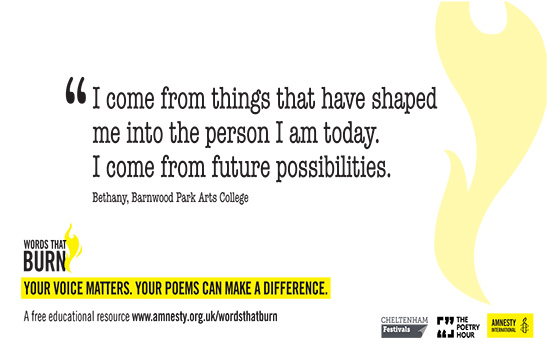 I Come From …
I come from big ideas that are always put down,
I come from watching people in my life walk in and out,
I come from long days but nights filled with pointless dreams.
I come from family illness and step in father figures,
I come from making mistakes and having imperfections,
I come from being raised by a Grampy who's now suddenly gone.
I come from confidence when I was young,
I come from a little girl who used to always have fun,
I come from recent self-esteem issues and a loss of love for the sun.
I come from constant reality wake up calls,
That always comes banging on my families door,
I come from watching people struggle to temporarily fix a permanent problem.
I come from making wishes that'll never come true,
I come from being strong as it's the way I grew,
I come from being unable to stop missing you.
I come from being there, but never involved
I come from impending damage trying to stop me reach my goals,
I come from being overlooked but also under constant judgement.
I come from criticism, a loss of faith in my religion.
I come from always failing to make a good decision.
I come from always missing that sense of completeness and belonging. 
Sophie, Cleeve School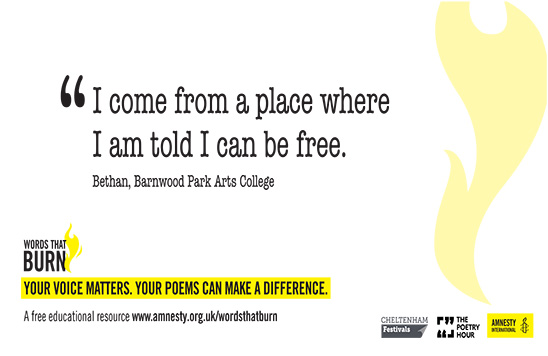 I Come From …
I come from a cosy bed and a feather-stuffed pillow
I come from a five am alarm ringing in my head
I come from early morning practices and infinite laps of the pool.
I come from three breakfasts a day and an endless supply of porridge pots
I come from my torn muscles being patched up with protein shakes
I come from a slim figure with a swimmer's appetite.
I come from a mouldy rucksack and never-quite dry costumes
I come from many swim caps that will forever be unused
I come from awful tan lines from training in the summer.
I come from eleven sessions a week and always feeling drained
I come from awfully tight knee skins and permanent goggle marks
I come from every critique given and every skill mastered.
I come from the pressure and discipline of my coach and parents
I come from many failures, yet one success that will make me eternally proud
I come from friends who became family when I was not at my peak.
I come from pushing my body to the limit, then turning round and doing it again
I come from months of hell to drop a couple of seconds
I come from swimming.
Ellie, Cleeve School

 Back to main Words That Burn page