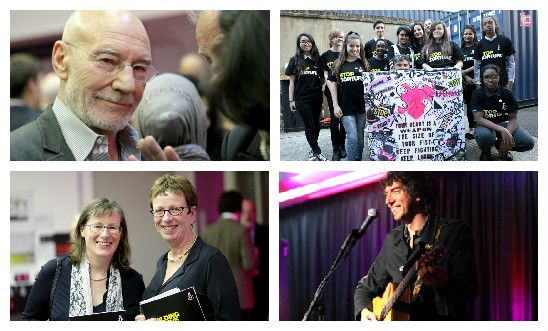 Image (clockwise from top left): Amnesty Supporter, Sir Patrick Stewart; young activists with street artist Pure Evil; Amnesty UK Director Kate Allen with Amnesty UK Chair, Sarah O'Grady; and Snow Patrol's Gary Lightbody.
On 3 June, Amnesty International celebrated 10 years of the Human Rights Action Centre, the home of human rights activism and headquarters of Amnesty UK.
Our donors, celebrity supporters and activists joined together to mark this special milestone and a decade of hard work and success.
It was an inspiring and thought-provoking evening with highlights including an impassioned speech by Sir Patrick Stewart, a standing ovation for Amnesty UK Director, Kate Allen and a magical set from Snow Patrol's lead singer, Gary Lightbody.
There were also performances from Jeremy Irons, Paterson Joseph, Juliet Stevenson, Arthur Darvill and Jo Harman.
The event gave guests the opportunity to reflect back on the positive impact of Amnesty's human rights work over the past ten years and highlights can be found here in our souvenir brochure and film. 
Bianca Jagger, Patron of Amnesty's Circle of Conscience, also delivered an inspiring speech, encouraging guests to join:
'When people like us combine our support, involvement and dedication, we can change the world - for the better. But it won't happen by dreaming or through expectation. It takes time, courage, commitment and money. I've been honoured to become Patron of the Circle of Conscience. Please join us.'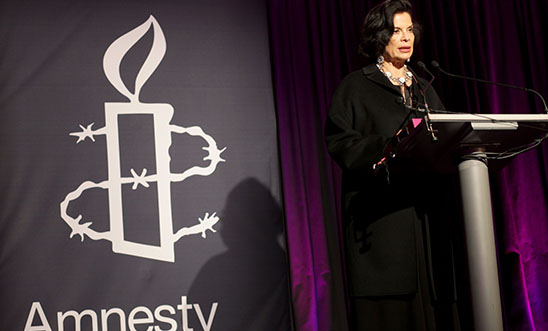 Image: Bianca Jagger, President and Chief Executive, Bianca Jagger Human Rights Foundation Council of Europe Goodwill Ambassador
To find out more, please contact our Major Gifts Team on 020 7033 1601.