Guest blog from Amnesty FestiVol Rona MacNicol : As a fulltime student and with a part time job, it is often challenging to immerse and involve myself with the organisations I admire most. I often find myself researching the work of wo...
The Freedom of Expression Award honours an Edinburgh Festival Fringe theatre production of excellent artistic merit that builds understanding and raises awareness about human rights in an inspirational way. Around 70 longlisted product...
Amnesty Freedom of Expression Award 2015 Shortlist Announced
Seven powerful productions at Edinburgh Festival Fringe chosen for shortlist
Edinburgh Festival: Freedom of Expression Award 2015
A Girl is a Half-formed Thing actress Aoife Duffin, winner of the 2016 award © Amnesty International
The 2016 award was won by A Girl is a Half-formed Thing, brought to the Traverse Theatre by The Corn Exchange theatre company. The play is acted by Aoife Duffin, who brings multiple characters to life in a fearless story of one girl's upbringing in Ireland.
Freedom of Expression Award 2014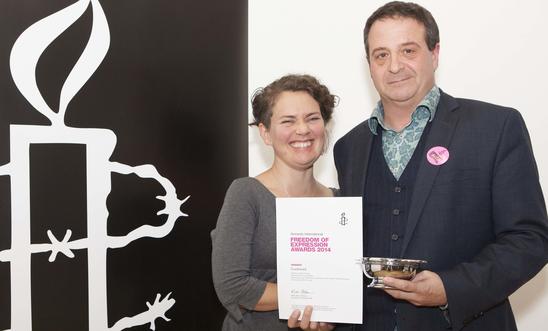 Freedom of Expression Award winners for 2014 Mark Thomas and Emma Callander
Our Freedom of Expression Award is given to an outstanding play at the Edinburgh Festival carrying a human rights message.
Every year we honour theatre productions of excellent artistic merit which also build understanding and raise awareness about human rights. Entries are reviewed by Amnesty Ambassadors and a panel of professional theatre critics to shortlist.
Rea Cris is the Parliamentary Office Administrator at Scottish Environmental LINK and Communication Co-ordinator at the International Union for Conservation of Nature. You can find her on Twitter @MeecoYoueco Scottish Environment LINK...
Risga Carson has been volunteering for Amnesty Scotland during the Edinburgh Festival for several years. This year, she was Festival Co-ordinator. Every year, at least 30 volunteers work with Amnesty Scotland at the Edinburgh Festival...
This is an extract from Amnesty International Freedom of Expression Award Judge Neil Cooper's moving speech given at the Award Ceremony in Edinburgh last Friday. There was a very silly newspaper article published the other day by a lad...
Award-winning author Jackie Kay began this year's annual Amnesty Scotland Annual Lecture with a poem. Her son Matthew, sitting beside her on the stage, had made the documentary Over the Wall about a British football team's trip to the...
Subscribe to Edinburgh Festivals