Student Action Network Committee Elections 2020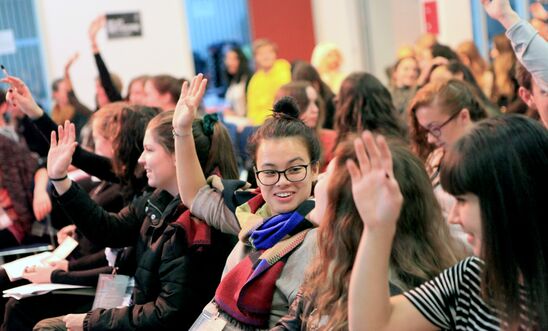 The Amnesty Student Action Network (STAN) committee are at the forefront of student activism in the UK, leading campaigns and representing thousands of Amnesty students.
Each year, the STAN committee are elected by our student network and for 2020 the Student Action Network Committee elections have moved online.
Each affiliated Student Group is eligible to vote in this year's election. 
Please read all the candidate's answers, and watch all candidate videos, before deciding your group's vote in consultation with your committee and/or members. You can vote for up to 8 candidates.
Voting will close at midnight on Wednesday 6th January. 
If your group needs to affiliate, please email a completed form by the voting deadline.
If you have any issues with your vote please email students@amnesty.org.uk
Alma Kalina Rießler
University of Edinburgh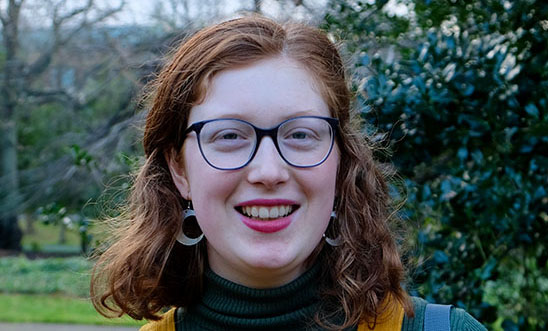 Tell us a bit about yourself
Hello! My name is Alma. I'm a second-year Linguistics and Celtic student at the University of Edinburgh and currently Secretary of our Amnesty student group. I am German-Bulgarian and have lived in three different countries, which has shown me social justice issues present in many European societies and how urgently I want to address them. I am particularly interested in feminism, minority language rights, mental health awareness and refugee rights. I consider myself an introvert who is committed, kind and caring. I want to make a change in people's lives through creative and compassionate ways to stand up for human rights. Amnesty gives me these tools and allows me to channel my anger about the injustice of current events and use it productively. I would love to be more involved with Amnesty UK and being part of the Student Action Network Committee would be a great way to do that!
What experience do you have campaigning for human rights or social justice issues?
I have been campaigning for social justice issues since high school. In my United World College, I was active as a peer supporter, a point of contact for students. As part of this role, I also campaigned for mental health awareness and a consent culture. Moreover, I organised a week-long project supporting asylum seekers in a small Italian village. We provided them with one-on-one language lessons in English and Italian in order to support them in their efforts to be legally recognised as refugees. I have been involved in my university's Amnesty group since first year. I helped organise An Edinburgh Housewarming, the welcoming festival for migrants in Scotland we held last year. This year, I have been elected Secretary of our student group. Being involved in the organisation of our society has taught me the value of engaging with old and new members as well as behind-the-scenes logistical work.
What ideas do you have to improve student involvement in Amnesty?
I know that activism can be intimidating, so I want to make sure students know the multifaceted ways to get involved. Being loud and extroverted is not a requirement! From going to or organising information sessions on human rights abuses, attending letter-writing sessions to doing craftivism, there is something for everyone. Collaborating with more unusual societies that do not typically work with human rights could show this. Furthermore, I would want to make sure that Amnesty campaigns are connected to concrete issues on campuses. This would make students feel personally involved and relevant to the success of the campaign as well as showing them tangible social justice issues they can impact. I find this especially crucial during covid-19, a time of uncertainty in which we need to support one-another and so many of us feel isolated. The pandemic did not pause human rights abuses, activism is still going on.
Chiara Genotti 
University of Stirling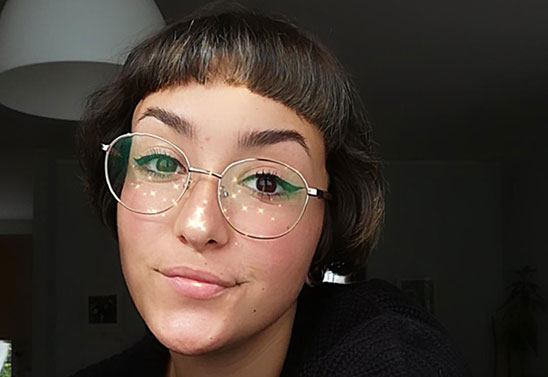 Tell us a bit about yourself
I am Chiara and I am an international student from Turin, Italy. I study International Politics at the University of Stirling. I am a queer white cis gender woman, and I come from a working class Italian family that always has my back! Finally, my main goal in life is to enter the United Nations Human Rights Council, because I really want to dedicate my life to defending human rights around the world.
What experience do you have campaigning for human rights or social justice issues?
Some of the things that I have done are participating in marches for climate change, Black lives matter, LGBTQIA+ rights, women's rights, and as a vegetarian for animal rights. I constantly share on my social media stuff related to critical subjects and human rights. Finally, I try to sign and share as many petitions as I can to help marginalized groups be heard.
What ideas do you have to improve student involvement in Amnesty?
I think that the most effective way to get as many students as possibile involved in the work of Amnesty is organizing more events like the Students Conference. Also, there should be more social media platforms where students can interact with, maybe introducing interactive live streams.
Duaa Abdulal
University of Bradford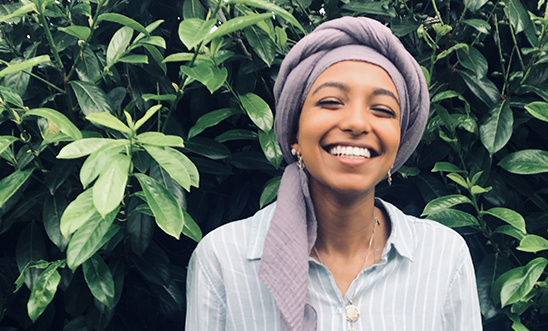 Tell us a bit about yourself
As a young bisexual, Muslim and Black female who has lived in several cities within and outside of the UK I have experienced my fair share of injustice. However, as someone who has had the privilege of being educated and knowing different languages, such as Arabic and French, I have always known that I can reach a range of people experiencing human rights abuses. My interest in ensuring the freedom of speech stemmed from my first student representative role at the age of 6 years old. Since then I have been determined to ensure equality and diversity are at the heart of educational institutions and this led me to start the Bradford Amnesty student group. In my spare time, I'm an avid blogger and writer and I also spend way too much time at concerts (my first-world problem during this pandemic is not being able to go to festivals).
What experience do you have campaigning for human rights or social justice issues?
I have campaigned for the rights of different people including refugees and Black people and I have done this by fundraising and attending protests in the UK and abroad. A personal moment I will always remember is when I spontaneously decided to perform a spoken word poem at the Bradford BLM protest. Speaking to the crowd I felt a range of emotions as it became clear that they resonated with my personal experiences of discrimination. My main method of campaigning has also involved volunteering for the African Caribbean Achievement Project, an organization dedicated to empowering and educating black youth in West Yorkshire, and Refugee Action. During the pandemic, I also resorted to social media and my personal blog to engage my followers and Bradford Amnesty members to broaden their knowledge of different human rights abuses and even take action themselves by signing petitions and attending protests.
What ideas do you have to improve student involvement in Amnesty?
One of my main ideas would be to use social media as a key tool in ensuring student engagement in Amnesty campaigns. Social media platforms have played a major role in global discussions surrounding human rights injustices. I believe that student groups should be using them as a way to inform and engage their members, especially during this global pandemic as people are unable to properly physically interact. I also believe it would be great to have regular meetings with all of the different student groups because I know that students would love to get more involved with other universities and higher education groups. It would also be worth having meetings with Amnesty student groups from other countries. Not only would this be informative, but it would also be fun for people of different backgrounds to get together, especially since everyone has a common goal in terms of combatting injustice.
Eve Grice
University of Nottingham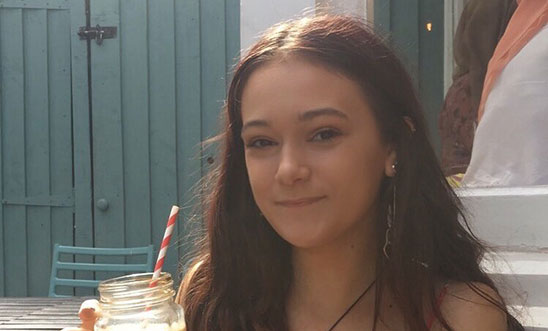 Tell us a bit about yourself
Hi! I'm Eve and my pronouns are she/her. I am a 2nd year at the University of Nottingham studying International Media and Communications with Spanish! I'm passionate about using social media for good which is why I ran for publicity officer for our Amnesty society. I think it's a powerful tool that can do a lot more good if we use it for the right things. Abortion rights is something I advocate heavily for, control over your own body is a basic human right which should be respected and protected. In my free time I love to skateboard (although I think I fall more than I skate) and I'm currently learning how to play bass guitar! I definitely spend more time reading than I do on uni work but honestly can you blame me? I'm currently reading the Harry Potter series for the 16th time and I am not ashamed!
What experience do you have campaigning for human rights or social justice issues?
I spent most of my first year at university attending climate change protests, workshops and panels on social justice issues in order to gain a vaster knowledge of human rights matters. This year I've taken on a lot more responsibility as publicity officer for our society. I'm in charge of our social media accounts, promoting campaigns, fundraisers and socials. I've been able to work with a remarkable group of people and get involved in launching campaigns. This summer we took part in Miles for Refugees 2020 and raised over £1100! Although we haven't been able to do as much stuff in person this year this has just made me even more determined to adapt my activism and make an impact wherever possible. We are currently raising funds for a homeless centre in Nottingham by taking advantage of the power of social media and launching a hashtag campaign.
What ideas do you have to improve student involvement in Amnesty?
I think the pandemic has proven to all of us the power that the internet has and how we can use it to make a real impact. As students, we spend a lot of our time in front of a screen and I think this is the best way to capture attention, by promoting campaigns, panels and meetings. Now more than ever people are taking to social media to boost their activism. Our society has been seeking out collaborations with other societies at our university to get them involved in our campaigns. We worked with STAR, ELSA and The British Red Cross on Campus to raise funds for refugees over the summer. We have also collaborated with the Yoga society who will be attending our Write for Rights workshop, something they had never heard about until we reached out! Building a strong relationship between societies on campus undeniably increases involvement.
Justine White
University of Edinburgh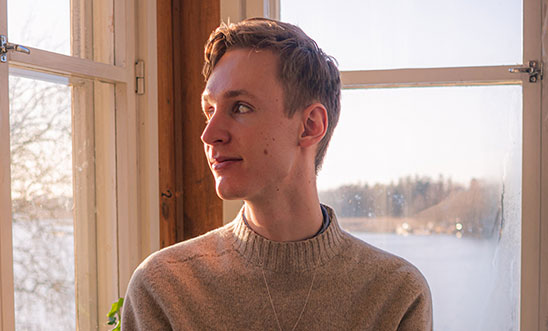 Tell us a bit about yourself
I guess I'm not like the other girls. I mean, I listen to too much indie folk and watch too many coming of age movies, but that's pretty much anyone who grew up in suburban Los Angeles. I've come to love Edinburgh and found it the most welcoming place, something I want to translate to my role on STAN if elected. I've especially recognised this through my ongoing role as the Equality, Diversity, and Inclusion Curation Officer within our School of Physics and Astronomy, and yes, I can be a bit of a nerd sometimes too. It would be cliché to say I've always loved nature but ask any environmental scientist (my degree) and that'll be true. I may be biased and therefore consider the climate crisis the most pressing human rights issue, but that's not to say LGBT+, women's, and refugee rights aren't one bit as important to me.
What experience do you have campaigning for human rights or social justice issues?
My start in activism came from the outcry against a lack in firearm restrictions heard across the U.S. after the tragic Parkland School Shooting. In a team of students, we organised a walkout against gun violence at my high school, something we even ended up receiving the support of our teachers from. That following September I arrived in Edinburgh, with a vague idea of what Amnesty did but immediately fell in love with the society. I shortly became fresher's representative in my first term, secretary in second year, and now co-president in my third, with aims to become StAN across my third and fourth year before my dissertation comes to haunt me. In-between I've run meetings on abortion in Northern Ireland, climate refugees, gay conversion therapy, and killer robots, helped organise countless panels and actions on issues such as climate change and refugee rights, and attended three student conferences.
What ideas do you have to improve student involvement in Amnesty?
Through two and a half years of involvement with Amnesty I believe I have a solid comprehension of the ins and outs of societies, but never has student involvement been harder to achieve than during a pandemic. Until we can meet in person, I've already suggested to StAN about setting up a rota of meetings, whereby a particular university hosts a meeting for an entire region, supporting student groups who potentially don't have the resources to host a meeting each week at the moment. Also, campaigning for human rights is of course at the core of Amnesty, but the reason I've turned up to every meeting on Tuesday since week one of first year is because of the community, and I want to make certain that everyone feels welcomed and societies put an emphasis on Amnesty as being a social activity, as well as a way to do social good.
Lyall Tighe
University of Glasgow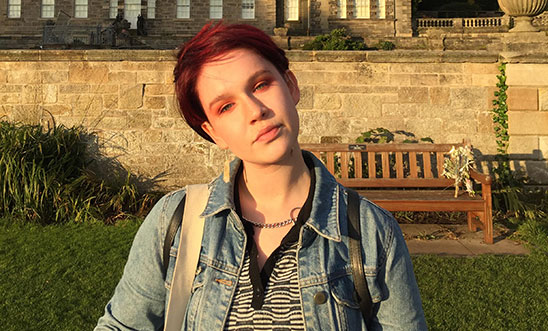 Tell us a bit about yourself
I'm a queer Scottish non-binary person in the fourth year of my Philosophy and Theology degree at the University of Glasgow. I'm currently on the Amnesty committee at Glasgow as the Secretary and last year I was the Fundraising Officer and I've really loved it. I'm interested in working in human rights in the future, and when I graduate, I am looking to do a Masters in Equality and Human Rights. In my free time, I love cooking lots of different vegan food for me and my partner, and I've also recently started up a little business to sell some earrings I have been making! I have also really been enjoying cycling as a way to get fresh air during lockdown. I am passionate about many human rights issues, and I would love the opportunity to learn and get more involved in Amnesty.
What experience do you have campaigning for human rights or social justice issues?
I have been involved with my student Amnesty group at Glasgow for two years, first as a Fundraising Officer and then as VP Secretary. I organised many fundraisers, such as a Jamnesty music night, a Pub Quiz and a Love is Love Valentine bake sale. I have also supported many protests e.g. the Climate Strikes, #EndSARS and Black Lives Matter in my hometown, and have joined campaigns such as the SRC Virtual Pride month, and Glasgow Amnesty's Climate focus. I love Craftivism, so during lockdown I was painting a variety of human rights themed rocks and hiding them around my hometown as a small way of campaigning. This year I have also worked with GU Positive Minds, a student peer support group, and led a training session for their supporters about LGBTQ+ mental health as this is an issue that's very important to me.
What ideas do you have to improve student involvement in Amnesty?
The pandemic poses specific problems to involvement, and to overcome these barriers it is important to provide student branches with resources on how to run effective online events etc. to allow them to be a better support system to existing members during the pandemic and to overcome the hurdles COVID presents for new members. I also think involvement would increase if there was better communication between student groups from different universities. If the inter-university connection was better utilised and advertised it could help to improve engagement given that I think the idea of a large student network is appealing for many people. When working with my student group I have seen participation increases when people see their interests reflected in events, thus an effective idea is to create opportunities on social media etc. for students to share what human rights issues they are passionate about to help centre our campaigns.
Mirella Liepert
Middlesex University London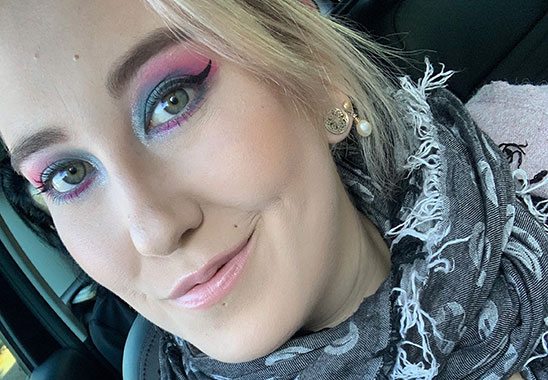 Tell us a bit about yourself
Justice has always been very important to me. Being from a small town in Austria it is nearly impossible to not run into some ignorant idiots once in a while and I have always tried to explain basic human decency to them...even at 3 in the morning at a bar after at least one too many. Growing up around people who haven't learnt anything from history is very frustrating and definitely makes you want to help change things for the better. The other reason is probably that I was adopted as a baby, and I have always wanted to help those who weren't as lucky as me. Way too many children end up in bad foster care, homes, or even on the streets, with no one to look after them, simply because their mums didn't have a choice. Human rights are for everyone and its time that everyone finally receives those rights too.
What experience do you have campaigning for human rights or social justice issues?
i did work as a fundraiser for AI a few years ago, unfortunately I wasn't doing very well back then, as my dad got sick, so I didn't stay long. Apart from that me and two other girls from my class, back when we were like 13, tried to change the article for girl in german, as it is "das", which translates to "it", which we still think is very sexist. To do that we would use the female article "die", in all our essays, works, and also whilst speaking, which didn't sit very well with our teachers to say the least. I like to be educated and to educate, therefore i think its very important to speak to different people with different backgrounds and experiences as much as possible. For my PhD I am researching in the field of child trafficking linked to social media, which to me is the most horrendous crime.
What ideas do you have to improve student involvement in Amnesty?
I honestly didn't even know that we had a student group before, neither in Vienna, nor in London. Due to having more time, thanks to covid, I looked through our student organisations and was well happy to see AI on the list. So maybe it would be good to get a few minutes during class to tell students about it, therefore not only the "social butterflies" find out about it, but everyone. Link up with other student groups, the gym, get some cool university-specific AI merch out there. I mean, who doesn't like a cute jumper, that also shows solidarity!? :) In times of corona and a raise in social media maybe we should show more presence on there, do tiktoks, videos, pictures,...all over social media sites, get creative with it. Do challenges, and show solidarity this way, as demonstrating on the streets is unfortunately not a very good idea these days.
Niamh O'Connell
Queens University Belfast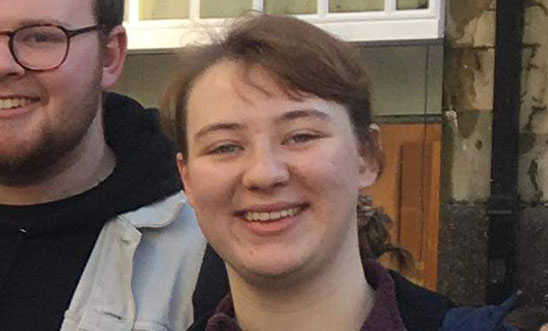 Tell us a bit about yourself
I'm Niamh O'Connell, a final year undergrad studying Anthropology and History. I've been involved with Amnesty throughout my time at QUB in the past being events officer, treasurer and now being the vice-president of Amnesty QUB. Some campaigns I care about, poverty, women's rights and BLM. Being at QUB has offered a special opportunity to be apart of the key milestones for human rights like the decriminalisation of abortion and the legalisation of same sex marriage in NI. STAN for me would be a great way to enhance not only my own voice but the voice of NI and students across the UK. Listening and learning from all students and making what has been a hard year for us all, something we can look back on and be proud of our part in social change! Let's empower each other in these trying times and value and learn from our experiences!
What experience do you have campaigning for human rights or social justice issues?
This past year has been a critical turning point for many social injustices and human rights issues across the world, which has been incredible to see and be a part of. I've planned and ran events for my society along with the team and we've achieved a lot of great things working on campaigns such as period poverty, climate change, sexual assault awareness with the help of STAN. Outside of our society we've worked with Amnesty NI fighting for the decriminalisation of abortion and the legalisation of same-sex marriage in NI, getting to participate in real change. Outside of Amnesty, I've been part of Athena SWAN, a gender equality board in my degree helping to make changes such as more flexibility for those with children and a more inclusive curriculum. During the summer I assisted setting up marches and protests for the Black Lives Matter movement in my local area.
What ideas do you have to improve student involvement in Amnesty?
Amnesty has a great rapport with students but it can always be better. This year especially has highlighted the importance of knowing how to interact and get involvement online, the student conference being a prime example of that. A key part of the future I feel is ensuring we can still fight for human rights and social justice causes over the pandemic and coming future while remaining safe and ensuring students still make a difference. With students being at the forefront of blame for spikes and outbreaks the best thing we can do to disprove people is by doing what we do best and insight for change!
Poppy Barton-Topple
University of York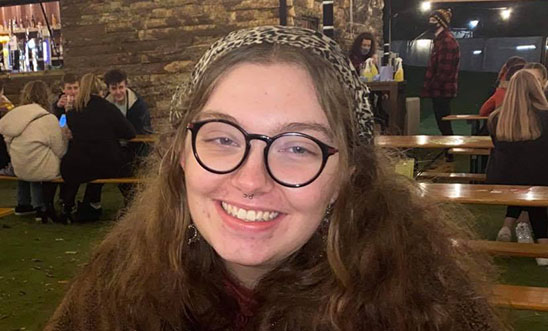 Tell us a bit about yourself
My name is Poppy and my pronouns are she/her, I am now in my third year at the University of York studying History. I have been interested in human rights abuses and campaigning against them since high school, and was mainly interested in gender inequality and rights for the LGBTQAI+ community as things I found personally important, but I was able to discover and learn more from coming to University and joining Amnesty. I am now particularly interested in migrant rights, and the campaign for a humane migration policy in Europe and the UK, along with decongesting the camps that are present throughout Europe and campaigning for family reunification. Alongside campaigning with Amnesty and learning about human rights I dance with my dance society at University, participating in competition teams, teaching and choreographing showcase and competition routines. Dance is a great stress relief for me from the University workload.
What experience do you have campaigning for human rights or social justice issues?
I have been a member of my University's Amnesty group since the beginning of my second year, and was elected as President in that same year so I have direct experience representing Amnesty on my University Campus. I am a head representative for SolidariTee at my University, SolidariTee is a charity that focuses on raising money to provide grants to legal aid NGOs for asylum seekers and refugees. On campus, SolidariTee provides fundraising and educational events. I am also a focal point and social media leader for York Must Act, a City Chapter of Europe Must Act which is a social movement demanding a new and humane policy on migration. Through York Must Act I planned and attended peaceful demonstrations. All of these positions have provided me with leadership and teamwork skills, all of which have helped me in planning educational events, peaceful demonstrations and writing open letters to MPs.
What ideas do you have to improve student involvement in Amnesty?
I think the student involvement in Amnesty currently is at a wonderful place, and I believe the Student Action Network plays a major role in ensuring this involvement is maintained and continues at such a high quality. I would love to be able to introduce more collaboration between Universities in the same areas, eg. the North East, South East etc. I think this has been done in the past successfully and I remember thoroughly enjoying Leeds Jamnesty and their involvement of other University Amnesty groups both in the UK and abroad. I think, especially at the moment, there is such an opportunity to have Uni's that are both near and far from each other to collaborate on meetings and socials, both to broaden discussion and create a more interconnected network as it is wonderful to see discussion between Uni's during the student conference.
Rebecca Wilcockson
University of York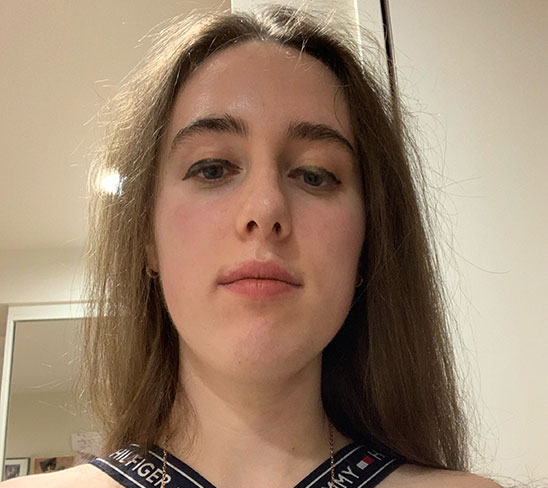 Tell us a bit about yourself
Hi, I'm Rebecca and I am a third-year sociology student at York. I have always been passionate about Amnesty and human rights. I started my Amnesty journey when I was in sixth form and have not looked back. Since then I have been to two (nearly three) student conferences, an AGM, helped to set up a Black Lives Matter book club, and helped to organise the climate strikes. I am particularly passionate about human rights violations surrounding children/ education as in the future I want to be a teacher and work with children with special needs or work with an NGO which mission is to about protecting children.
What experience do you have campaigning for human rights or social justice issues?
I started my human rights journey when I was 15 and went to a feminist conference, where most of the women in the room didn't believe that men should have any rights. From then on, I was really interested in issues to do with social justice and human rights. When I was 16 I did NCS, where I campaigned to help the homeless as well as helped Sadik Khan try to combat racism in London. I have campaigned for (and succeeded) getting the London Living Wage implemented in more workplaces. Through my time on the Amnesty committee (as former treasurer and now fundraising and events officer). Through my university, I have personally mentored students who are asylum seekers seen them get a place at university. I'm also head of events for Solidarity and therefore have helped to raise the profile of refugees.
What ideas do you have to improve student involvement in Amnesty?
I love the AGM and Student conference but I think it would be really nice to be able to share ideas between groups (and not just through seeing what other groups are doing on social media/ through students who are in the same part of the country as you ). My idea is possibly having bi-monthly calls, where all Amnesty committee members are able to share ideas, what they are planning, etc. I also think that it would be nice to have more interaction with school/university groups of amnesty as they too are a similar age to us who will have great ideas. Finally, I would like to make Amnesty as accessible as it can be and hopefully have an even bigger pool of students (from lots of different backgrounds) take part.
Rinna Väre
University of Glasgow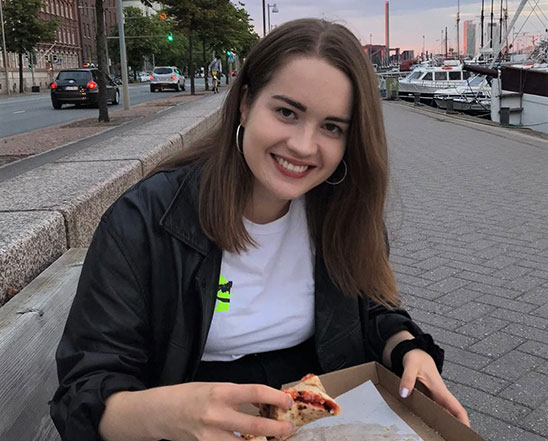 Tell us a bit about yourself
Hey! I'm Rinna (she/her) a third-year student from Finland studying Politics and Sociology at the University of Glasgow! Because of my studies I read a lot about social issues but that's still not enough for me, so in addition to being part of Amnesty, in my free time I enjoy listening to audiobooks about feminism and the failings of neoliberalism (yes, I'm fun at parties). When I need a break from everything social justice related, I put on a face mask and turn off my brain by watching some questionable reality show or listening to a podcast about celebrity gossip – works like a charm every time. And last but not least: If I would have gone to uni with Barack Obama I like to think that he would describe me in his memoir as "the ethereal bisexual who wore mostly black" (Obama, 2020).
What experience do you have campaigning for human rights or social justice issues?
I've been part of the Amnesty group at my uni since I started my studies. Currently I'm the chairperson of our group but over the past 2,5 years I've been lucky to be involved in various aspects of the society! I've been particularly invested in campaigns regarding climate justice, reproductive rights and lgbtq+ rights. In addition to the countless Amnesty events that I've organised and attended by this point, I take my activism with me wherever I go as I see it as a part of who I am and as a constant journey of learning. In my everyday activism I live by the quote "choose courage over comfort". Even in situations where it might feel uncomfortable, I always speak my mind if I encounter injustice – whether it's a transphobic biology teacher in secondary school or a course convenor that refuses to accept the need to decolonize the curriculum.
What ideas do you have to improve student involvement in Amnesty?
As long as everything is online, we have to work together and support each other to make use of social media to its full potential. Groups have been amazing in adapting to the new circumstances but since social media activism has really skyrocketed, I think there is still potential to make better use of it, especially Instagram. Additionally, it is important to create a variety of different ways to be involved, as no student is the same. Also, it is important to make the threshold of participating in Amnesty activities as low as possible, making sure that also those that are more shy or insecure about their knowledge know that you don't need to be an expert in the field in order to be an Amnesty activist. I also think building strong connections with different groups helps with engagement because people want to see clearly what activism can achieve.
Will Dawkins
University of Birmingham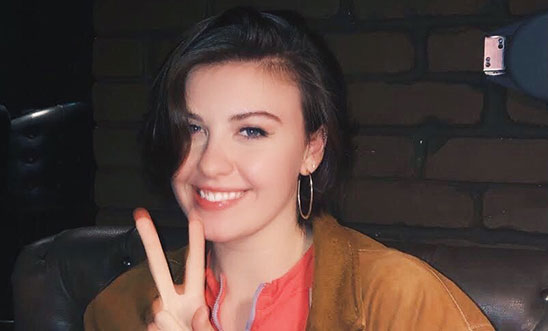 Tell us a bit about yourself
I have always been passionate about human rights, but I think I truly became conscious of its significance following my coming out at a young age, and experiencing the homophobia and animosity associated with that. Now, I'm the outreach officer at the University of Birmingham Amnesty group where we are currently campaigning for 'Stop Killer Robots'. In my free time I love watching bad rom-coms and have been carrying on with my quarantine baking. An unexpected fact about me would be that I can speak four different languages, to varying degrees!
What experience do you have campaigning for human rights or social justice issues?
The human rights work that I am most proud to have taken part in would be working with Refugee Support and working in a food bank during the Summer lockdown. While it isn't campaigning exactly, helping people access their basic human rights was a hugely humbling experience, and gave insight into organising groups. I've been lucky enough to work with groups such as St Basils and Birmingham's Children Hospital charity as a fundraising volunteer, which I hope has given me the people skills needed to talk to people about relevant issues and to convince them of how important our work is, a skill I hope to bring to the outreach work we do in Amnesty. This year I've also taken on diversity initiatives with Queer Lawyers of Tomorrow, and as an 'amplify co-ordinator' for my university law society, which focuses around facilitating diversity of all kinds in the legal profession.
What ideas do you have to improve student involvement in Amnesty?
One of my great motivations for being on STAN is to improve accessibility, particularly on campus, and I think the best way to achieve this is through a national communication between groups on what this should look like! I firmly believe that often a lack of accessibility isn't through not wanting to have it, but instead not being sure how to execute this, and so would like to put out workshops on skills on the topic. For example how to produce online content with subtitles, image descriptions or colour-blind friendly content if it is requested! This conference has really been a testament to different Amnesty's groups' will to communicate and to share our ideas and journeys and I'd like to continue this great work and propose more regional communications and socials to keep this network as strong as it is!
Zakria Abdalmomen
Middlesex University London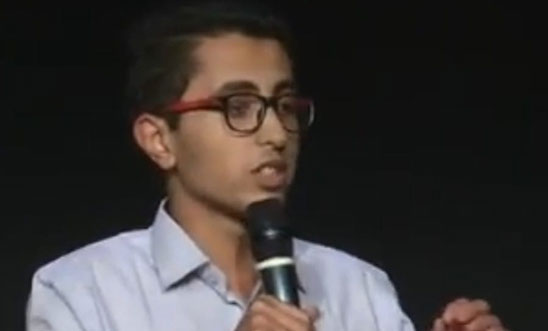 Tell us a bit about yourself
My name is Zakria Abdalmomen but everyone calls me Zak. I am a Libyan born Canadian. I spent half my life in Canada and the other half in other places. I am in third year LLB Law with International Relations at Middlesex University London. I am very passionate about human rights and I plan to dedicate my life and career to it. I have lived in seven countries in four continents and visited a lot more. I have seen a lot of human rights abuses and violations in those places, first hand. I have also met a lot of great and inspirational people that allowed me to have the hope and strength to make change. I am the president of the Amnesty Society at my university and I started it from scratch last year.
What experience do you have campaigning for human rights or social justice issues?
I have worked in and with many organisations over the past six years including Habitat for Humanity and AIESEC. Most of that work was focused on the Sustainable Development Goals (SDGs) and human rights. I have won several debate and MUN conference awards. I have done many speeches about disarmament, debate, war, human rights and more. I have also participated in a TEDx event as a speaker. I have organised educational events and conferences. I have worked on projects on small business support, environmental clean ups and various educational programmes.
What ideas do you have to improve student involvement in Amnesty?
Based on my experience and studies, I would want to make big improvements to our campaigns by being apart of the big shift that is currently happening. Human rights is currently shifting to include socioeconomic issues that many students have issues with. These issues could include access to healthcare, housing and income inequality. Income Inequality is a growing issue that the disenfranchised is suffering from the most. Hearing from the students about their experiences is something we need to be actively doing regularly. My goals are to bring a big shift to the campaigns at Amnesty International UK, the representation and the mission.