Prudential RideLondon-Surrey 100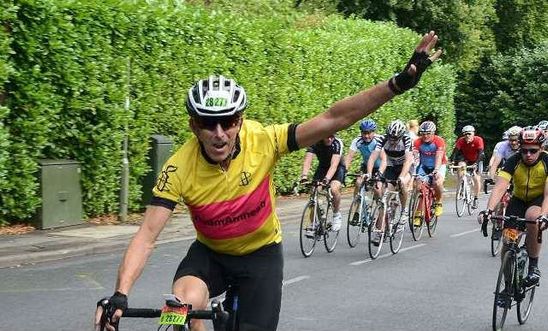 John cycles the 2017 Ride London 100 for Amnesty © Amnesty International
Sign up to cycle the 2019 Ride London with Team Amnesty
Date: Sunday 4th August 2019
Distance: 100 miles
Location: London and Surrey
Minimum fundraising target: £450
Registration fee: £30
Minimum age: 18 years
Prudential RideLondon-Surrey 100 is one of the key events in London's world-class annual cycling festival. More than 25,000 people took part in this awesome challenge last year. Starting in Queen Elizabeth Olympic Park, participants cycle 100 miles from the capital and onto Surrey's stunning countryside, before a spectacular finish in The Mall in London.
Whatever your ability, this closed-road event is one of the cycling highlights of the year and you could be part of it by joining Team Amnesty!
Sign up to cycle the 2019 Ride London with Team Amnesty
What we'll give you
Join Team Amnesty and you will receive: 
Fundraising pack 
Team Amnesty cycling jersey
Excellent support from the Amnesty events team 
Access to Team Amnesty Facebook page 
Regular team updates 
One-to-one contact
Take part with your own place
If you have your own place you can still choose to cycle for Amnesty International and are free to raise any amount you choose. You'll get the full support any member of Team Amnesty would get - as well as the knowledge that you're funding human rights work around the world.
Signed up to cycle? Get fundraising
Get in touch
If you have a question about this event, please contact David Blakeley, who will be happy to help.
Email: team@amnesty.org.uk
Phone: 020 7033 1646