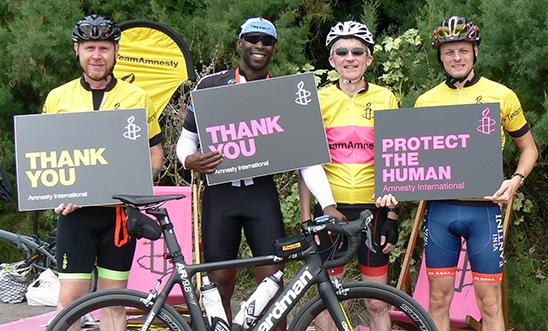 London to Brighton 2015
Date: 11 September 2016
Distance: 54 miles
Location: Start London, finish Brighton
Minimum fundraising target: Raise as much as you can! *
Registration fee: £40 (includes lunch on the day)
Minimum age: 16+ if accompanied by an adult; 18+ on your own
* Please note, the sign-up form says you need to raise £100 to cycle with us, but as long as you pay the £40 registration fee you can raise however much you like - there's no minimum amount
Sign up to cycle London to Brighton with us
Whether you're a commuter who wants to take on a challenge, or a seasoned cyclist looking to set a new personal best, we'd love to welcome you on our team to ride London to Brighton for human rights.
This is a popular ride for all abilities, and you'll have our full support on the day.
You'll start off early from Clapham in South London, and make your way through the scenic Surrey countryside surrounded by others all doing their bit for human rights.
There's a big lunch provided for all participants - which you'll need to help power you up the epic hill that is Ditchling Beacon - and we'll meet you at the other end when you reach Brighton.
This ride is all the more fun as a group, so why not get your friends, family or colleagues to hop on their bikes with you? With a reasonable amount of training it's a very achievable distance for a first-time cycling event.
Sign up to cycle London to Brighton with Team Amnesty
What it's like to take part
'I thought I'd be the only nervous novice but there were people of all ages and abilities - racers pushing for a personal best but also everyday riders like me.'
Though by her own admission not a 'serious' cyclist, Anna conquered the hills of the South Downs and smashed her fundraising target. And she had a great time doing it!
Get a flavour of what you'll experience: read Anna's blog.
Get in touch
If you have any questions about this event, please contact Anna Walton, our Senior Community Fundraising Coordinator.
Email: team@amnesty.org.uk
Phone: 020 7033 1646