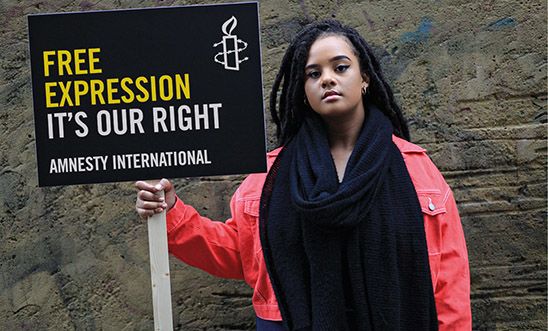 "I'm hoping to make everyone realise the potential they have to make a change. To make people realise that you can't argue with facts and that we must do it ourselves if nobody else will. I also want people of different interests to engage with topics they aren't familiar with too."
— Sophia Tassew
Art director and creative Sophia Tassew aka 'RIOTGAL' is making a huge impact on the art scene by providing space for creatives from marginalised communities and promoting the need for inter-sectional feminism. This year Sophia curated a 'RIOTGAL' event to mark International Women's day with pieces chosen to explore diversity and commentary of the current social and political climate to champion a more inclusive female-led movement.
Female empowerment is something Sophia feels incredibly strongly about and from working in a male dominated industry was inspired to write notes of empowerment to hand out at a London underground station. The letters advised women not to apologise for talking about what they love and to "speak with a loud, clear voice'', encouraging women to embrace all forms of their femininity.  
About the Amnesty Collective
The Amnesty Collective are a group of acclaimed artists, influencers and activists. They are using their platforms to speak out about issues which are important to them and engage their community in Amnesty's work and campaigns.