Protest against Trump's human rights record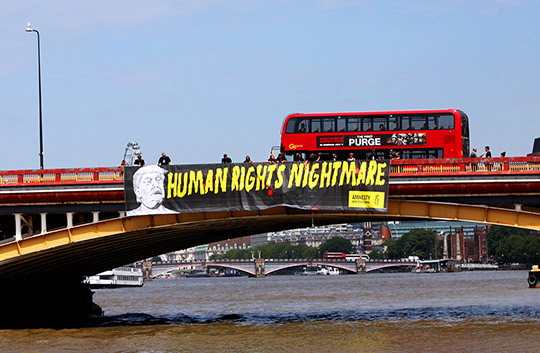 Attacking women's rights. Slamming the door on refugees. Keeping Guantánamo open. Tearing children from their parents' arms. The horror is real – but so is the resistance.
In July 2018 President Donald Trump paid a visit to the UK. So we took the opportunity to let him know exactly how we feel about his dreadful human rights record.
Welcome banner
On Thursday 12 July President Trump landed in the UK, and we were at Vauxhall bridge in central London to welcome him. In full view of the U.S. Embassy in Nine Elms, we unfurled a huge, 15m long welcome-banner that made no bones about our thoughts on his visit.
At Vauxhall Bridge @amnesty have unveiled a banner ahead of Trump's imminent arrival in the UK🇬🇧 pic.twitter.com/xBgGUgnJn0

— Christina Michaels (@Kris_teen_a) July 12, 2018
#BringTheNoise
The nest day, we joined thousands of activists from organisations like Greenpeace, Oxfam and Stonewall to march from Portland Place down to a rally in Parliament Square.
As it was Friday 13, and President Trump's policies have truly proved to be a living nightmare, we went with a horror theme. Activists wielded 'Nightmare On Any Street' banners and danced through London to classic horror tunes.
Today @AmnestyUK definitely did #BRINGTHENOISE as we danced through the streets of London #TrumpProtest #HumanRightsNightmare pic.twitter.com/vi1IA5Xqpq

— Freshta Sharif (@FreshtaSharif) July 13, 2018
We were joined along the way by fantastic Amnesty activists, including Vick Hope, Sita Brahmachari, Seyi Akiwowo and Peanut from kaiser Chiefs, who took some of the photos in the album below.
Golfing up in Scotland
Not content with letting the President think we only oppose his record in London, we also organised a welcome at his golf course in Turnberry, Scotland. Frightfully nice place.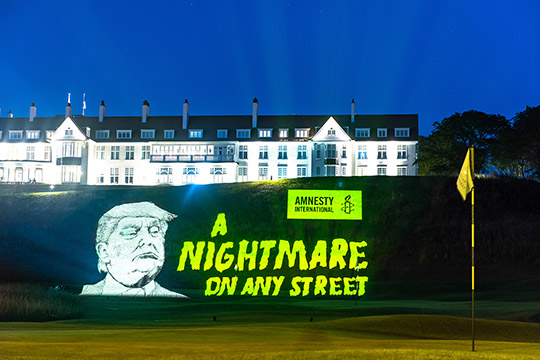 Thanks so much to everyone that helped out along the way. We made it clear that Trump's policies are not welcome here, or anywhere in the world!
To be continued...
We won't stop until we end Trump's human rights nightmare once and for all.
You can get involved by sending an instant tweet to @RealDonaldTrump, and by joining us on Trump Watch for expert analysis and urgent actions you can take to end the human rights nightmare first hand.