Israel finally frees Palestinian circus performer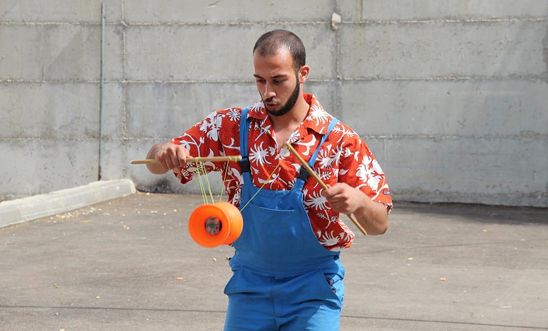 Mohammad Faisal Abu Sakha, a 23-year-old Palestinian circus performer © Palestinian Circus School
Mohammad Abu Sakha, a 24-year-old circus performer from Palestine's West Bank has been freed after two years of being held in administrative detention, without charge, by Israeli authorities in a prison in southern Israel.
We're so happy Palestinian circus performer, Mohammad Abu Sakha has been freed by Israel, we're doing cartwheels https://t.co/gRzhRCqV48 pic.twitter.com/adVp6UdnE4

— Amnesty UK (@AmnestyUK) August 31, 2017
Extending detention, again and again
Mohammad was arrested by Israeli soldiers on 14 December 2015 on his way to work, and had been detained ever since in the administrative detention system. He was never charged with a criminal offense nor tried for any crime.
Israeli authorities all-too-often abuse administrative detention to keep people behind bars without allowing them access to justice. Their treatment of Mohammad is just one such example of this.
On 13 June, Israeli authorities renewed Mohammad's detention for a further six months. On 11 December 2016, they renewed his detention order for a third time. Although six months is the maximum period of detention for each order, there is no limit on how many times each order can be renewed.
A hearing set for 13 December for a military judge to review the order at Ofer military court in the occupied West Bank was postponed – and no new hearing date was set.
At a hearing on 5 December at the Israeli High Court, the judges told Mohammad's lawyer that secret 'evidence' provided by the Israel Security Agency (ISA) supported the claim by security forces that Mohammad posed a 'threat to the security of the State of Israel'. But according to Mohammad's lawyer, there was no new material in his client's file since December 2015. However, the system of administrative detention means that neither Mohammad or his lawyer could review 'evidence' against him, and therefore were unable to defend the case - violating the central principle of a fair trial.
Arrested on the way to circus school
Mohammad teaches circus skills at the Palestinian Circus School in Birzeit, near Ramallah, where he specialises in working with children with learning difficulties.
On 14 December, he set out from his parents' house and headed to the circus school – but never made it. Israeli soldiers stopped him at Zaatara checkpoint near Nablus. They took him to a nearby detention centre and held him there until issuing him with a six-month administrative detention order on 25 December.
Mohammad's detention was reviewed and upheld by an Israeli military judge on 5 January. On 31 March, Mohammad's appeal against his first six-month administrative detention order was rejected.
First held in Meggido prison, northern Israel, Mohammad was transferred to Ketziot prison in the Negev/Naqab, southern Israel, in mid-March. The fact that he is being held in Israeli is a violation of the Geneva Convention, which states that detainees from the population of an occupied territory must be detained within that territory.
Our campaign for justice for Mohammad
25,000 people emailed the Israeli authorities through our website, calling on them to charge or to release Mohammad and in March, we protested with circus performers by the Israeli Embassy in London, showing solidarity with Mohammad and the Palestinian Circus School. The protest marked three months of Mohammad's detention without charge.
Mohammad's family were banned from visiting him for the first 10 weeks of his detention, but his mother was allowed to visit him in prison at the start of March. She said she told Mohammad about the solidarity campaigns for him from people around the world, and he was grateful, although concerned for the children – she says just 12 and 13 years old – in detention alongside him.
'He has turned the prison into a small circus, making shows and entertaining prisoners. He told me we force ourselves to believe that we are in a summer camp, not a prison so that days pass by quickly.'
Mohammad Abu Sakha's mother
Detained under vague accusations
The Israeli military has accused Mohammad of carrying out unspecified 'illegal activities' with the Popular Front for the Liberation of Palestine (PFLP), a political party with an armed wing that has been banned by Israel. But they never formally charged Mohammad or revealed to him or his lawyer the 'evidence' they claim to held against him – making it impossible for Mohammad to understand what he was being accused of, and to build a case to defend himself.
By keeping Mohammad in administrative detention, military authorities skirted round proper legal proceedings, so instead of a proper court hearing facing genuine criminal charges, as in a functioning civilian justice system, Mohammad's detention kept being renewed and extended.
Administrative detention: and excuse to short-circuit justice
Being denied the right to defend yourself or know what the supposed evidence against you is unfortunately common for people held in administrative detention in Israel.
So what is administrative detention?
It describes measures under which people are detained by order of state authorities – which can include the army – usually on security grounds, without intent to prosecute them in a criminal trial (even if there is some form of judicial review over the detention). While not completely prohibited under international law, its use is only permitted in exceptional circumstances.
In Israel, it was supposed to act as an exceptional measure to detain people who pose an extreme and imminent danger to security. But for years, the authorities have used the system to sidestep the criminal justice system and detain people who pose no threat no national security – they might not have committed a crime in the first place, but they can't defend themselves if they have no charges levelled against them.
In October 2015, Israeli authorities dramatically stepped up their use of administrative detention: by the end of the year, over 580 Palestinians were in Mohammad's situation – in the judicial limbo of administrative detention.
We believe that some Palestinians held in administrative detention by Israel are prisoners of conscience, jailed simply because they've expressed views the authorities do not agree with.
Mohammad: dedicated to the circus
The Palestinian Circus School has said there is absolutely no basis to claims that Mohammad Abu Sakha is a security threat, that his life is dedicated to the circus, and that his only crime was 'to make children happy'.
Mohammad began studying at the newly-established school in 2007. When he was 17 he was arrested and held for a month by Israeli security forces, who accused him of throwing stones at an Israeli military jeep when he was aged between 12 and 14.
He told his school colleagues that, during his detention, a military judge told him he would 'never go back to the circus'.
But in 2011 he became one of their performers, also training children in circus acts. He specialises in teaching children with learning difficulties, who make up 30 of the more than 300 students at the school.
The circus school trains Palestinian children and youth in circus arts and to 'strengthen the social, creative and physical potential of the Palestinians, seeking to engage and empower them to become constructive actors in society.' It is funded by various charities and other bodies, including the European Commission.