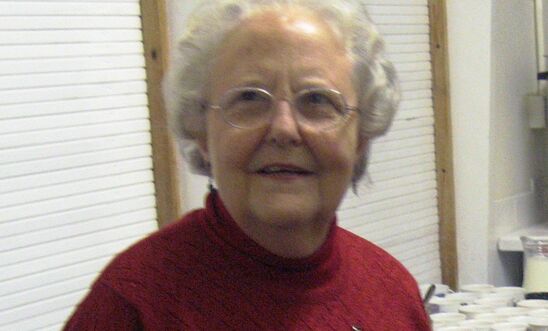 Audrey Regan
Audrey Regan
Southend Group were saddened to learn recently of the death of Audrey Regan.
Audrey had been a stalwart and active member of the Southend Amnesty Group since shortly after its formation in 1981. She has participated in most of our group actions up until a few years ago when her advancing years prevented her from attending monthly meetings on a regular basis. Over the years she has written countless letters of appeal and solidarity on behalf of people all over the world suffering injustices of one sort or another and took a particular interest in Amnesty's campaigns against the death penalty, torture and domestic violence.
Tributes have been received from members of the Group expressing sadness and recognising what an exceptional and remarkable person she was, determined to put the world to rights, cheerful and self-effacing.  Audrey had friends everywhere and was a pleasure to talk to – she had an unshakeable faith in and compassion for her fellow human beings and a clear understanding of the democratic processes that govern and regulate Amnesty's activities and the truly global nature of the organisation
Memories include her arranging with her Quaker friends to allow us to use their meeting hall for our annual Write for Rights event when we had nowhere else to go; fundraising concerts with many of the performers and audience drummed up by Audrey; cooking food and refreshments for our Amnesty International 50th Birthday Party; attendance at Amnesty UK's East Anglia Conference and at Amnesty UK's AGM; training sessions with cups of tea and cake; cheerfully sorting out piles of Amnesty literature when she moved home. She was involved in Amnesty campaigning just a few days before she died, responding to an action on domestic violence. She has been one of Amnesty International's most loyal and reliable foot soldiers.
In her own words taken off the Southend Amnesty website:
"Compassion flowed with my Mother's milk in my home. As a consequence, for example, my Mother, brother and I would hate those mornings when we knew someone in the UK was to be hanged. Once married, my late husband and I would have The Observer propped up at the breakfast table reading about South Africa, Sharpville and then Peter Benenson's article 'The Forgotten Prisoner.' So when, later, I saw an advert for a meeting of the Southend Amnesty Group, I went along. 40 years on I am still going".
We will miss Audrey – a good and gentle person with a ready smile and an encouraging word. It was a privilege to know her.
If you want to make a donation in her memory, the family have chosen Amnesty International and Freedom From Torture.
Southend Amnesty Group
View latest posts