Write For Rights & December Meeting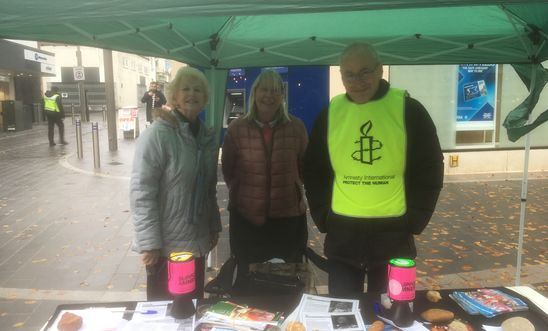 Woking Amnesty stall © Adam Creen
Thanks to everyone who came to Woking town centre on Saturday to sign cards and man the stall. Despite wind and rain we got a good number of cards signed. And of course we meet on Monday 3rd December for our annual Write for Rights activity at 8pm at Trinity Methodist Church.
Please bring cards along with you as we will be sending lots of cards to a wide variety of prisoners of conscience and human rights defenders. If you are able to bring some nibbles too, or even some soft drinks, we can make it a bit more festive. We will be in the Curtis room, rather than the music room, so look out for the sign directing you.
We won't be doing other Amnesty business tomorrow although it would be good to know if anyone if thinking ahead to attending the AGM next April which will be held in Nottingham (13/14 April) as it would be good if someone could be there to use the group vote.
View latest posts