Brave: Whisper Her a Poem. Poetry-fest for Azza Soliman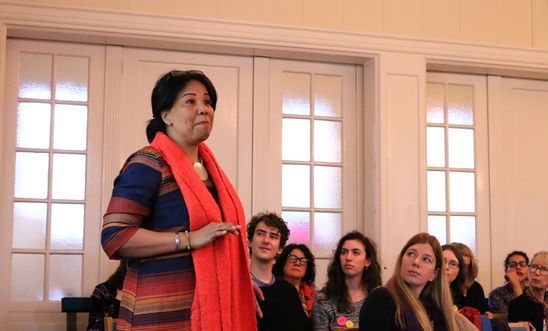 Azza Soliman at the 2016 Women's Rights conference in Cambridge © Photo by Anita Lewis/Amnesty International Cambridge City Group
Azza Soliman is a strong woman who, at great personal cost, is making a difference for many women in Egypt and beyond. Her strong passion and her powerful belief in justice and women's rights means that she is an inspiration to many, and what better way to capture that inspiration than in a poem, dedicated to her, standing in solidarity with her.
Azza is an Egyptian women's rights lawyer. She has spoken out against torture, arbitrary detention, domestic abuse and rape and has supported victims in and outside of court. Because of her selfless work, she has been arrested and interrogated. Her assets have been frozen and she is not allowed to travel. Most worryingly is that she is facing trumped-up charges and, if convicted, could spend more than a decade in jail. (More details about Azza and Amnesty's campaign, including a petition can be found here and here.)
In addition to writing to the Egyptian government demanding them to drop the charges, Amnesty supporters are sending Azza messages of solidarity and the poetry-fest poems will be sent to her too. The women's rights subgroup of the Amnesty Cambridge City Group has been campaigning for Azza since her arrest. Some of the group members have met Azza and heard her speak as she was the keynote speaker at the women's rights conference in February 2016 (see picture).
The poetry-fest for Azza will be launched on Thursday 13th September, at the talk by Amnesty's volunteer country co-ordinator for Egypt, Hugh Sandeman entitled: "Why is there a human rights crisis in Egypt? And what can we do about it?" (details and tickets here). The festival will conclude with an event on 10th December, Human Rights Day.
Poems should be submitted here: https://form.jotformeu.com/82247704515355 and once approved will be sent to Azza, published on the group's social media channels and may also be chosen to be read out.
View latest posts