National Conference and AGM 2021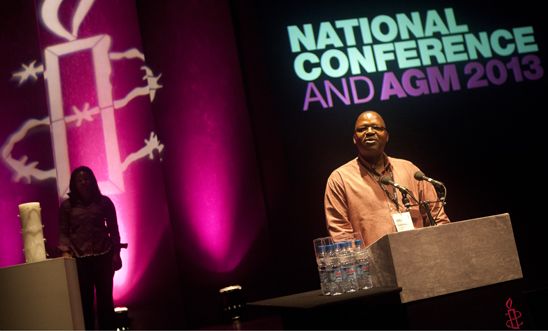 © Katura Jensen
The Amnesty International UK Section National Conference and AGM provides a great opportunity for members to come together, hear more about our work and join in the most important governance meeting of the year. 
Please click on the links below to review recent AGM decisions and the most recent implementation update.
Annual General Meeting
The pandemic and its attendant restrictions have presented real challenges in deciding how to approach our National Conference and Annual General Meeting. In February, we consulted the Board's Activist Sub-Committee on a range of different options. Based on the feedback received, we have decided to hold our AGM on 19 June. This will be an online meeting, as we remain uncertain of the legal and health and safety restrictions that may continue to apply even in the summer. Whilst the meeting will be online, we are planning to deliver all the AGM business elements across a single day. This will include presentations from the Chair, Treasurer and Director, as well as debates and voting on resolutions. The deadline for the submission of resolutions is 21 March 2021. Please complete the form in the downloads section below, if you wish to submit a resolution. Instructions on how to submit a resolution form can be found within the form.
Whilst we know that an online AGM won't be the same event that we are used to, our planned approach will allow for a more participatory experience than we were able to manage for last year's resolution discussion days. We are also planning to deliver National Conference in the autumn. It is still too early to say if this will be online, in person or a combination of the two but we look forward to keeping you updated with our plans as they develop.
Please look out for your AGM notice, containing  your personal code number for voting and joining the online AGM (which are sent out with the Amnesty Magazine or by email) in early May. If you do not receive an AGM notice please contact the Supporter Care Team.
AGM Decisions