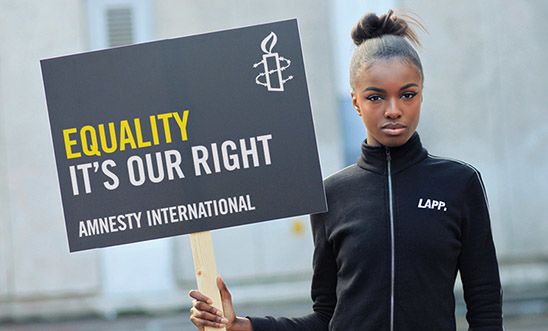 Leomie Anderson started LAPP the Brand when she was asked by a follower to write about the pressure young girls are under to send explicit images and it went viral being covered by every major news outlet. Making her realise how much influence she could have only encouraged her to give other women the same opportunity. Both a clothing line and platform for women to be able to speak on whatever they want, free from judgement- you do not have to be a professional writer to submit.
Born in 1993 in England, Leomie Anderson is one of the most in demand models on the scene right now. With an impressive resumé, she is a regular on the runways of London, New York and Milan.
Leomie is determined to leave a mark in the fashion industry that goes far beyond the catwalk and is constantly proving there are no barriers in fashion.
About the Amnesty Collective
The Amnesty Collective are a group of acclaimed artists, influencers and activists. They are using their platforms to speak out about issues which are important to them and engage their community in Amnesty's work and campaigns.