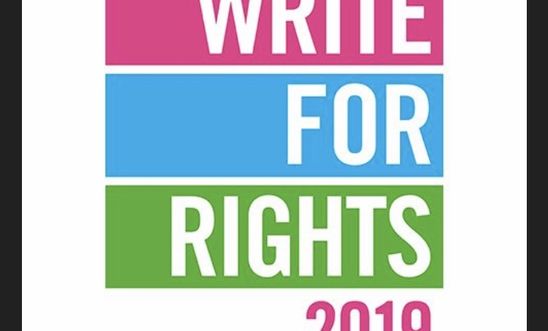 It's (nearly) that time of year again!  
Write for Rights is when we send cards to individuals who are at risk throughout the world. We have a list of the individuals and guidance about what messages to write. This year we shall have cards that you may wish to send: they have been designed by Kathy Gomberg and are winter cards for Humans of Wolverhampton. You may also wish to bring cards – ones that are not religious ("Season's Greetings" ok but not any mention of Christmas) and are also quite small ones which will cost less in postage.
 
It is a very worthwhile and often effective action that Amnesty International traditionally takes. We have this opportunity to support someone whose human rights are being abused. It only takes a few minutes to write a card or letter but for someone jailed for exercising their freedom of speech, a family fighting to defend their land, or a child tortured because of their appearance, they are invaluable. A message of solidarity shows them they are not alone. Our letters and cards too show presidents, justice ministers, police chiefs and prison governors that the world is watching.
 
We usually bring snacks and soft drinks to see us through the evening and it will be great if you can do so but above all we just want you to come along to write some cards and join the action. Feel free to pop in for as long as you are able.
Our event will take place on the 8th of December, starting from 7pm, at Lea Road United Reform Church. 
 
Thank you for all your support this year, and we hope to see you on December 8. ?
View latest posts