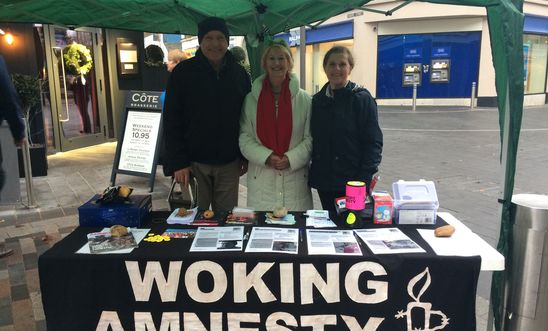 Amnesty Stall © Ruth Breddal
Thanks to everyone who came along and signed a card, donated for postage, took a badge or biscuit, and supported our Write For Rights stall in Woking on Saturday.
Particular honourable mentions go to Steph who took the cards to post them & to Jan who organised the stall (which turned out to be quite stressful!) and who turned up despite an impressive chest infection.
Over the two events we got nearly 180 cards signed which was wonderful  There's also £64 in the collecting tin, which is more than I usually get when I'm actually asking for money…
We do this because it works.  Many of us sent cards to Albert Woodfox when he was in solitary.  Now he's been released, he has said:
"Your messages from beyond the prison walls have become an enormous source of strength for me. I would like to thank all of the members of Amnesty International and its supporters for all of the wonderful work they are doing on our behalf."
View latest posts