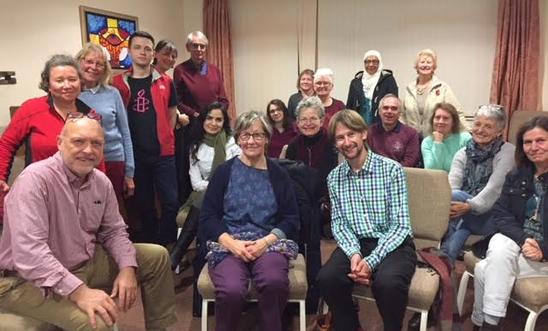 November meeting © Ruth Breddal
Thanks for a great turn out last night.  I've already had a thank you email from James for the lively discussion & all the donated clothes.
We had a special speaker for our November meeting.
James Wilson from the Gatwick Detainees Welfare Group talked to us about their work.  Those of us with long memories will remember that the group spoke to us a few years ago & it was really eye-opening. They provide emotional & practical support for asylum seekers & immigration detainees at one of our nearest airports.
We also talked about inviting our MPs to the launch of the Write for Rights campaign.
If you click on this link, you'll be able to find your MP & their email address: https://www.parliament.uk/mps-lords-and-offices/mps/
Once you click on their email address, please write something along the lines of:
As local supporter of Amnesty International, I'd like to invite you to drop in on the reception for Human Rights Day, any time between 12:30-2pm on 6th December 2017 at Speakers House. We will be launching our annual Write for Rights campaign and it would be great if you could spare some time to learn about the threats facing human rights defenders around the world. We'll be working on this campaign in your constituency and it would be wonderful if you could join in.
Obviously, feel free to put this in your own words if you prefer.
View latest posts