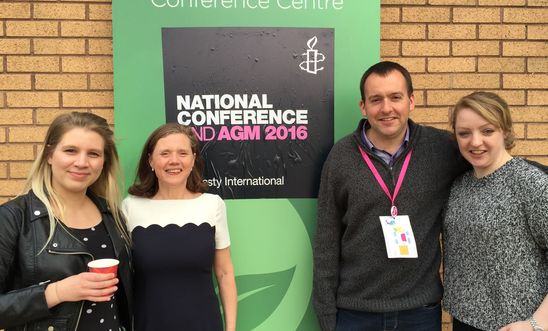 Woking members at the AGM © Ruth Breddal
Four members of Woking Group went to the AIUK AGM & we all had a fantastic, exhausting and inspiring weekend.  For me the most striking moment came when a human rights lawyer from Nigeria, who had worked to free Moses Akatugba, said that the law should be the final defence of the common man, but in Port Harcourt, Amnesty was the final defence of the common man.
Meanwhile here are reports from two of your delegates:
My Conference 2016 Report
My favourite bit of conference is always going into the action centre and seeing the many stalls detailing the many different campaigns Amnesty is working on. It's full of people looking to get more involved and take more actions. The passion on display and the buzz around can't help but inspire. And it was certainly no different at conference 2016. 
I had driven up on the Friday to attend a regional reps meeting (standing in for Philip the current SE regional rep) and so got a great chance to meet both the other reps, and members of the board who were there early as well. It was also an opportunity to find out what other parts of the country are up to and so I've come away full of ideas!
On Saturday I chose to attend the workshops rather than the working parties as I wanted to focus on finding opportunities to do more campaigning. So I went to a discussion on campaigning for individuals at risk, a meeting on the death penalty and a talk about what Amnesty is doing in Syria.
Positive results came from all three and I have a new long term case to act on who I shall be introducing and asking for your support with at the next meeting. Some of us are also planning some more action on the death penalty with a particular focus of October and a new film that is coming out. So watch this space!
The resolution voting always impresses me as people have such enthusiasm for how Amnesty works and how it can best achieve its goals. And while in the main conference theatre I took the opportunity to inform the 500 people there about the work of our local group; focusing on the visit Peter, Jan, and I made to Chislehurst and Sidcup Grammar School.  
With it being my second conference, having attended last year, I felt a lot more at home and able to network with more people. Meeting people from across the UK makes you realise quite how much Amnesty accomplishes in a year.
Overall I loved conference 2016. It was a really great chance to get back to why I originally joined Amnesty, to celebrate our successes and meet with inspirational people. I'd highly recommend coming along and I honestly can't wait for conference 2017; but first there is much campaigning to do :)
Matt
Amnesty International UK's National Conference and AGM.
Having never been to one before, I wasn't sure that I'd made the right decision as I pulled myself out of bed long before sunrise on a Saturday, but as the journey got underway and a train full of Amnesty members pulled in at Nottingham train station, I started to change my mind.
First on the agenda for me was a workshop for people who, like me, had never been to an AGM before. We learnt about resolutions, debate and voting procedures and the extra workshops, film screenings and activities we could attend. Then, after a quick cup of coffee, the full programme began. There was an address by Kate Allen, Director of AIUK, keynote speeches and the traditional lighting of the Amnesty candle, as we were all reminded of what we had achieved together and why we are still coming together; to fight for human rights change.
Over the course of the weekend I met so many wonderful and passionate staff and member activists, learnt about what different groups have been and are doing to stand up for human rights, found out more about exciting projects including get the Asylum Justice Project and attended a human rights education  workshop. I also drank more coffee than I normally would in a week, stayed up far too late talking to new people in the bar and learnt how intense the debates around during resolutions can be.
The weekend went by really quickly and although it was certainly exhausting get,  I came back feeling positive, excited and ready to keep working with AIUK and to stand together in the face of human rights injustice.
Laura
View latest posts