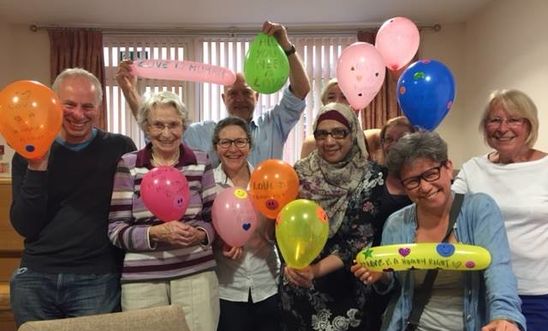 Supporting LGBTI people in Tunisia © Ruth Breddal
Our meeting in June was led by Matt and Jan talking about North Africa. It was good to learn that there are some improvements in human rights, and to take action where there aren't!
A couple of interesting suggestions have been made for us:
- A sponsored walk in conjunction with Runnymede Amnesty in July.  Both Steph & Lana have agreed to take part so far.  Would anyone else be prepared to help organise or walk?
- A showing of a play, Feeding the Darkness in conjunction with the local Quakers.  Would anyone be interested in helping with this?  You can see more about the play & the company here:
http://www.journeymentheatre.com/?page_id=19
Further dates for your diary:
4th July: meeting on the death penalty
5th September: meeting on children's human rights
3rd October: meeting
15th October: street collection
7th November; workshop on People on the Move
5th December: Write for Rights meeting
10th December: Write for Rights stall in Woking.  
Another date for your diary is Saturday 18th June: the Woking Debate on "Refugees – who is responsible?".   Woking Amnesty Group will have a stall displaying our Syria 360 headset, which is quite an eye-opener.
If you'd be interested in a trip to WOMAD with a bunch of friendly people, do see the message below from Reading Amnesty Group.  It's a fantastic event & a great way of promoting Amnesty.
===
I'm writing to ask a favour - the Reading group is organising the Amnesty stall at Womad again (Fri 29 to Sun 31 July, Charlton Park), and we desperately need more volunteers to come and help run the stall. We are doing a creative campaign action for Syria this year.
People come from all over the UK (and the rest of the world), so it's relevant to all UK local groups. Basically, the more volunteers we have, the more people we can reach and the more effect we can have (not to mention making more money for Amnesty). Thank you! Here is the blurb to pass on:
Please come and help the Reading group to run the Amnesty stall at the wonderful WOMAD Festival - World of Music, Art & Dance - the UK's only world music festival! Friday 29th to Sun 31st July 2016, Charlton Park, Wiltshire
We will be doing a creative campaign action for Syria, and need volunteers to sign up for just a couple of hours each day. It's great fun to be in the Amnesty team, and you can use our little marquee as a base.
We all have to buy our own tickets - please go to Womad UK for all the details.
Weekend tickets including camping are £175, on sale now, and it's possible to buy day tickets for Sat or Sun (price will be announced when day tickets go on sale mid-June).
View latest posts