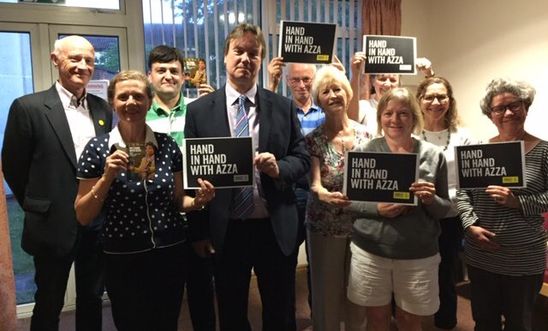 Woking Amnesty welcomes Jonathan Lord MP © Ruth Breddal
On Monday we looked at human rights in Egypt which are, bluntly, terrible. We were very fortunate to have the marvellous Hugh Sandeman to speak to us, who is Amnesty UK's Egypt specialist.  You can get involved by defending Azza Soliman here: https://www.amnesty.org.uk/actions/azza-soliman
We were please to welcome Woking's MP Jonathan Lord as he sits on the APPG for Egypt.
We have booked our annual stall in Woking town centre for talking to local people about human rights on 22nd June.  Unfortunately Jan who usually does all the work for our stalls won't be able to help out.  Peter & I are away that weekend, so is there anyone else who can take on the organisation?  Please do get in touch with Ruth or Jan if you'd like details of how we usually arrange this.
Please also see below an invitation from the local Soroptimists, with whom we have worked on FGM campaigns.
==
You will remember that a few years ago, we organised an evening with Amnesty and Tanzania Development trust, during which Rhobi Samwelly talked about her campaign in Tanzania to put an end to the ritual of female genital mutilation (FGM).  Since then, the campaign has grown – 315 girls were protected in two safe houses during the December 18-January 19 cutting season, Rhobi has spoken about it at the UN and a documentary 'In the Name of Your Daughter' has been made about it. As part of our Soroptimist Programme Action,  the Tanzania Development Trust will show the film on 20 June. We believe this is an opportunity to really understand the context and significance of  Female Genital Mutilation. I do hope that you and other members of Amnesty will be able to come.
Barbara H. Wilson, Communication Officer, Soroptimist International of Woking & District
Downloads
View latest posts