Group Meeting - October 6th 2014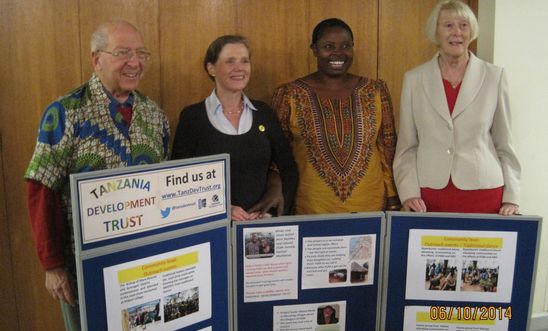 Rhobi with local Amnesty members © Ruth Breddal
Mama Rhobi Samwelly works to save children from female genital mutilation in her home in Tanzania.
She's currently on tour in the UK speaking about her latest project, a safe house for girls who need to leave home in order to be safe.
It was standing room only for our meeting and, despite having moved to a larger room than usual, people were sat on the floor. Rhobi spoke very movingly about her terrible experience of FGM and how she has saved many girls since.  With the help of the Tanzania Trust, she is educating local people & providing sanctuaries for girls who need to escape from their families.  Rhobi said if there had been a refuge when she was a child, she would have been able to avoid mutilation.
It was a useful experience to work with the local Soroptomists to organise this talk & bring the issue to a wider audience.
Group News
Remember Moses, the 16 year old Nigerian accused of stealing a phone?  He was badly tortured & sentenced to death.  After a huge Amnesty campaign his sentence has been lifted and he's on his way to being released.  That's a fantastic result, the president of Nigeria mentioned the Amnesty campaign when he announced the news today.
Fundraising
We're rather short of volunteers for our street collection on 11th October.  If you can spare any time, please let Franko know franko.kowalczuk@kcl.ac.uk We're also planning a barn dance for next year.  If you'd like to be on the planning committee, please contact Ruth.
Diary dates
On Monday 3rd November we'll be learning about the Amnesty campaign "My Body, My Rights"
On Monday 1st December will be our greetings card campaign, our chance to write to individuals at risk directly.
Amnesty - what next?
Amnesty is currently making strategic plans for 2016 - 19.  Would you be interested in finding out more?  AIUK would like to know your thoughts.  There will be a discussion on our goals at HRAC in London on Thursday 9th October 7-9pm. Another one in Guildford on 13/10/14 from 7.45pm.  Ask Ruth for details.  If you can't make those dates, you can vote for priorities here: https://survey.amnesty.org/votingmodule/s180/f/691428/4c7a/
View latest posts