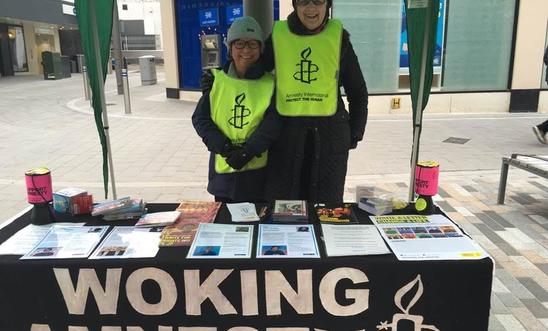 Write for Rights stall © Ruth Breddal
A quick reminder for our meeting on Monday 4th December, when we will be signing cards to individuals at risk. Bring a pen & some food to share & we'll sign cards to everyone in the Write For Rights booklet.
In a couple of days I am going to Istanbul as an observer of the trial of Idil & Taner, the Chair & Director of Amnesty Turkey.  Amnesty have asked me to tweet about the hearing, & I'll be using our @WokingAmnesty Twitter address. Please do feel free to share any posts that I put up.
An organisation with links to young refugees in Guildford who are without their parents has put out an appeal for items they need. Becca has offered to collect any donations at our December meeting: Clothing items for 15-18 year old boys.
Our Saturday stall got over 50 cards signed, over £88 donations & we talked to people about Amnesty.
View latest posts