Sayed AlWadaei: "Revealing the Truth is a Strong Weapon" - about the human rights situation in Bahrain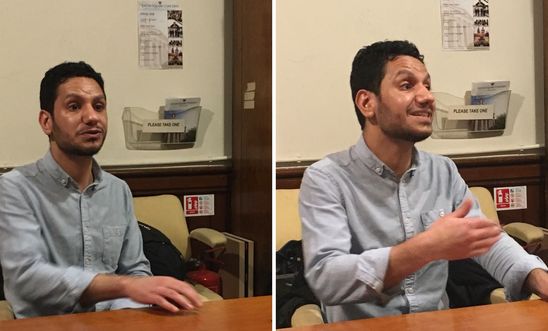 In our last meeting on 20 February 2018, we had the great pleasure and the great honour to welcome Sayed AlWadaei, Director of Advocacy for Bahrain Institute for Rights and Democracy (BIRD), as our guest speaker. Sayed spoke about human rights in Bahrain. 
1. Sayed started his talk by introducing himself as "a witness and a victim" of the 2011 Uprising in Bahrain. 
He then gave some background information about Bahrain and the 2011 Uprising. Bahrain is a small island in the Arabian Gulf / Persian Gulf. Bahrain's neighbours are Saudi Arabia, the United Arab Emirates and Qatar. 
The uprising in Bahrain in 2011 was inspired by what happened in Tunisia (Arab Spring) and by the collapse of dictatorships. The key date for the Bahrain Uprising was 14 February 2011. The uprising in Bahrain was the most populous uprising with 1/3 of the whole population of Bahrain protesting in a single demonstration. 
Sayed told us that he was a witness of the demonstrations and protests and that he was impressed by the courage of the people. 
The people in Bahrain paid a heavy price for their courage. At 3 a.m. on 17 February 2011 security forces attacked the protesters. Four people were killed and many were injured and arrested. Sayed said that he was beaten, but was able to escape. He mentioned that it was shocking that civilians were attacked by their own people and that the security forces used excessive violence as reaction to peaceful protests. 
In March 2011, Bahrain declared a state of emergency and invited the Saudi Arabian security forces to intervene. People were killed and many were arrested. Among those arrested were a significant number of physicians and nurses who had helped injured protesters and other professionals. In the middle of March the Pearl Monument in the middle of the Pearl Roundabout was demolished on government orders. The Pearl Monument had a been a landmark and a focus point of the protests. In the aftermath the Bahraini authorities also tried to destroy any reference to the Pearl Monument. Many civilians were tried in military courts under martial law. 
Sayed mentioned that the Bahrain uprising was an "inconvenient uprising" for the West, because Bahrain is a key allay of the UK and the USA. UK has historically strong links with Bahrain which had been a British colony until 1971. There is also a British Naval Base in Bahrain. For the USA Bahrain is the home of the 5th fleet. 
Sayed said that he was himself arrested, because he had spoken about his own experience and about what he saw during the protests. Many people had been tortured by the Bahrain authorities and some had been even tortured to death. Sayed was sentenced to six months in prison. In 2012 he was released from prison and decided to leave Bahrain. He went to the UK and was very quickly recognised as a political refugee. 
b) Sayed then spoke about the current situation in Bahrain. On the day after our meeting, the trail against Nabeel Rajab continued. Nabeel Rajab is a leading human rights activist who believes in justice and democracy. Sayed told us that Nabeel Rajab could face up to 15 years in prison for his tweets about the war in Yemen and torture in Jaw Prison. Sayed mentioned the role of the Saudi led coalition in Yemen. Also Bahrain and UAE belong to this coalition. The UK is not an innocent party, but provides arms to Saudi Arabia. In the meantime Nabeel Rajab's trial ended with a sentence. On 21 February he was sentenced to five years in prison for his tweets.
Sayed added that Nabeel Rajab's health had severely deteriorated in prison. He also mentioned that Nabeel faces further charges in relation to an Open Letter which he wrote while he was in prison to the New York Times. It was published on the front page of the New York Times. There also other open letters which Nabeel Rajab was able to write in prison and the get them published. The authorities have started new investigation in relation to these open letters and there is a risk that he will sentenced to more years in prison because of these letters.
c) Sayed then spoken his family's situation: In October 2016 the King of Bahrain visited Theresa May. Sayed and some of his friends protested against this visit. Sayed shouted "down down Hamid" and made sure that the king would notice him.
Initially Sayed was happy the protest, but in the same night his wife and his infant son (who was 18 months old) were arrested at the airport in Bahrain. They were on their way back to the UK. Sayed's mother in law called him. His wife was interrogated for seven hours, mainly about family connections. She asked the security forces why they were doing this. The security forces threatened her that they will fabricate a case against her, if she complains about her treatment. Sayed said that they decide to speak with the media about situation of his wife and their 18 months old son. Human Rights Watch was able to interview his wife and also the US Embassy intervened. The consequence was that the Bahraini authorities had to explain their actions. Four days later his waif and their son were able to leave Bahrain and came to the UK. The Bahraini Embassy later claimed that his wife had assaulted a police officer and that she was questions because of this action.
Sayed said that this was not the last time, his family members were punished in retribution for his human rights activism. He mentioned that a brother in law who is only 18 years old was arrested. He was tortured, threatened to be raped sexually harassed. Also his mother in law and a uncle were both arrested. All three were convicted to three years in prison. There is no evidence for any of the charges and this is a pure reprisal case.
There is currently an Early Day Motion in the House of Commons in relation to the conviction of his family members. Up to know 60 MPs signed this Early Day Motion. 
In 2015 Sayed's Bahraini citizenship was revoked. In Bahrain citizenship can only be attained through the father. The consequence is that his daughter who was born in November is stateless. Sayed said that is an example how much the Bahraini authorities would go after his family members. Sayed explained that his revocation of the Bahraini citizenship is not a singular case. Since 2011 Bahrain revoked the citizenship in 570 cases. Particular if people are living in Bahrain this revocation has severe consequences and amounts to a collective punishment.
d) Finally Sayed spoke about another human rights defender, Ebtisam Al-Saegh. She was summoned and questioned in May 2017. She said that she was tortured and sexually assaulted. She decided not to keep silent, but spoke about the harassment with Amnesty International and other organisations. On the 3 July 2017 Ebtisam was arrested. She spent 109 days in prison and was released on 22 October 2017. It is unclear whether the charges against her were dropped or not.
The members of the group had a lot of questions for Sayed. He spent a long time answering all our questions. He explained the frequent practise of travel ban against human rights activists. He was also asked why people started the uprising in 2011. He said that the main motivation was the urge for social justice and the end of discrimination of the majority Shia population by the Sunni Royal family and government. 
One group member wanted to know what is the best way to stay informed about Bahrain. He recommended the newsletter of his organisation BIRD. People can subscribe to the newsletter via BIRD's website. 
View latest posts