Embassy Crawl 2014 REPORT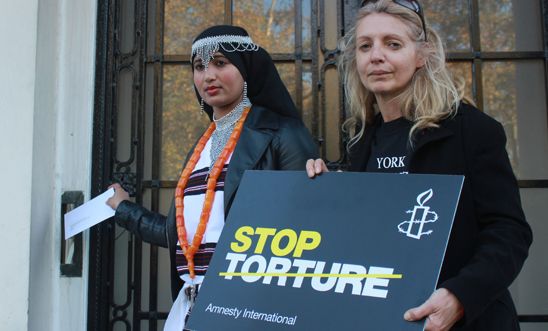 On 25 October the AI Wandsworth group led supporters of Amnesty International to seven embassies of countries where citizens are at the risk of torture. At each embassy we handed in a letter which raised the case of one individual who had suffered at the hands of the authorities. Often these people had been imprisoned on the basis of a confession extracted by torture.  After the delivery of the letter the group photo sends a clear message that this Amnesty campaign won't go away.  Indeed we shall be campaigning throughout 2015 – why not come along to our meetings and see what contribution you could make to the STOP TORTURE campaign?
Below are the details of the specific cases we are campaigning for. For photographs of the day, please follow this link to our Facebook page: Embassy Crawl 2014
Please get involved by signing online petitions for TORTURE cases on Amnesty International's website here: https://www.amnesty.org.uk/issues/Stop-Torture
BAHRAIN: Embassy Crawlers take the case of Mahdi Abu Dheeb to the Bahraini embassy.  Mahdi was detained for 64 days in solitary confinement when he was arrested in 2011 (for his peaceful work defending teacher's rights). The UN Convention on Torture states that over 15 days in solitary confinement amounts to torture.  Mahdi says the police beat him when he was interrogated and his daughter told AI that her father had two broken ribs and was suffering from severe neck and back pain when she saw him after his time in detention.
PHILIPPINES: Alfreda Disbarro has been imprisoned on drugs charges since October 2013 on the basis of a 'confession' obtained by police through torture. On 11 June the Acting Police Chief Inspector of the Philippine Police Internal Affairs Service opened an investigation into the torture of Alfreda Disbarro. (The Philippine Ambassador to London had acknowledged in a letter to Amnesty International's UK Director, Kate Allen, that Ms Disbarro's case has been brought to the attention of the Philippine's Commission on Human Rights.)
ETHIOPIA: Torture and other ill-treatment of prisoners are widespread in Ethiopia, particularly during interrogation in pre-trial police detention. Typically, prisoners might be punched; slapped; beaten with sticks and other objects; handcuffed and suspended from the wall or ceiling; denied sleep; and left in solitary confinement for long periods. Electrocution, mock-drowning and hanging weights from genitalia were reported in some cases. Many prisoners are forced to sign confessions.
IRAQ: On 20 June 2012, Ramze Shihab Ahmed was sentenced to 15 years in prison by a court in Baghdad, after being found guilty of funding terrorist groups. His hearing lasted just 15 minutes. He was arrested in Mosul on 7 December 2009. He was held incommunicado in the secret Muthana prison where he has said that he was repeatedly tortured, including being suffocated with a plastic bag; suspended by his ankles; and given electric shocks to his genitals. Security officials threatened him that if he did not "confess" they would bring in members of his family and rape them in front of him. Ramze Shihab Ahmed has said that, following repeated torture, and whilst blindfolded, he signed a statement which incriminated him in serious offences.
MEXICO: At 3am on 7 August 2012 marines broke into Claudia Medina Tamariz's home in Veracruz City and she was taken to a local naval base, where she says she was given electric shocks, sexually assaulted, and beaten. She was accused of being a member of a violent criminal gang and forced to sign a statement that she was not allowed to read. In court she retracted this statement and described the abuse she suffered in detention. The majority of the charges against her were dropped. However, two remain.
NIGERIA: On 27 November 2005, 16-year-old Moses Akatugba was arrested by the Nigerian army and, he says, shot in the hand; beaten on the head and back; and then charged with stealing mobile phones. He was initially held at the local army barracks where, he says, soldiers showed him a corpse. He couldn't identify the dead man, so they beat him.
After being transferred to Epkan police station in Delta State, Moses was tortured again. He said that the police beat him severely with machetes and batons, tied him up and hung him for several hours in interrogation rooms and used pliers to pull out his finger and toe nails to force him to sign two 'confessions'. Moses was convicted solely on the basis of the alleged victim's statement and the 'confessions' he made under duress. After eight years in prison, he was sentenced to death by hanging and remains on death row. His claims of torture have still not been investigated.
INDONESIA: Johan Teterissa is a primary school teacher serving a 15 year prison sentence for leading 22 activists in a peaceful public protest in 2007, in Ambon. During his arrest and the early period of his detention, he was tortured by the security forces. Despite being seriously injured, he received no medical treatment at the time and he continues to suffer from injuries sustained during his detention. Nor have any independent investigations been carried out into his ill-treatment.
In June 2012, we received credible information that he and other prisoners detained in Madiun prison in East Java did not have adequate access to clean drinking water and that the prison authorities were limiting the amount of water available for bathing. In July 2012, when transferred to Batu prison on Nusakambangan Island, Java, on arrival he was subjected to beating with electric cables. We understand that, again, he did not receive medical treatment at the time. Also, following disturbances at Batu prison in December 2013, his clothes, shoes, mattress and other belongings were taken away from him and for over a week he was forced to sleep half-naked on a cement floor.
View latest posts