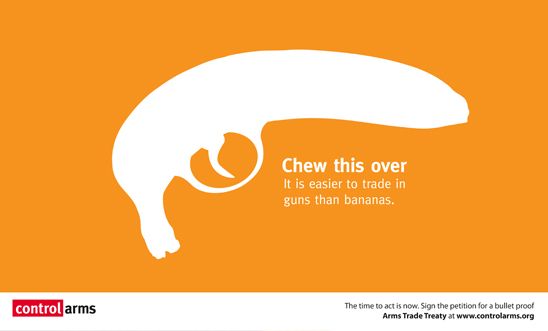 © www.controlarms.org
Please find attached a diary notice for the Arms Trade Treaty action this coming Saturday. This will be a crucial point in our campaigning efforts to make David Cameron make a public statement on the issue, and we are aiming for AIUK and media coverage, so please circulate far and wide to your groups and networks!
Three additional points:
- We will be probably be joined by John Mc Donnell MP, who is also going  to deliver the "Bullet-proof vests" to David Cameron in the next few weeks.
- At 10am there will be a pre-event open air workshop by Marc and Richard from visionOntv. This will teach activists how to cover demos and actions with their smartphones simply and efficiently -no tech skills required! We need 4-8 people for this part, so if you want to participate please let either of us know.
- The event will also be filmed as we are going to make a viral video of it to add to the pressure to the PM. As you will find out in the briefing, there are lots of different roles on the day so don't worry if you are camera shy.
If there are any queries or questions, please let us know. Hope to see many of you in Parliament Square!
Cheers and all the best,
Ros and Petros
Downloads
View latest posts