Vague laws mean guilt doesn't need to be beyond reasonable doubt Saudi Arabia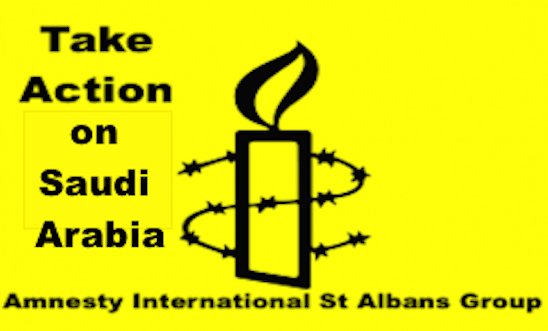 In Saudi Arabia the supperission of human rights does not surprise. In fact the Saudi regime has established a terrorism law, which came into effect on 1st February 2014, that uses a vague definition of terrorism.
In the first 6 months alone of 2015 Saudi Arabia has executed 102 people. The concern is that the death penalty is often used after very unfair trials and using evidence which has been gained through torture.
Amnesty International UK's position is that:
Saudi Arabia's use of the death penalty breaks international law and international standards on fair trials. We continue to call on the authorities to halt all use of the death penalty. In the meantime, Saudi Arabia should also:
Stop using the death penalty for crimes that are not considered 'most serious' under international law.

Stop using the death penalty for those under the age of 18 at the time of their crime, as required under Saudi Arabia's signature of the Convention of the Rights of the Child.

Ensure all detainees are informed of, and granted their rights from the time they are arrested

–

including access to a lawyer, and if appropriate access to consular officials and interpretation services.
To read more on this subject follow the following links;
https://www.amnesty.org.uk/execution-every-two-days-saudi-arabia-surge- killings#.VmcJKISxNsg
https://www.amnesty.org.uk/press-releases/saudi-arabia-has-executed-151-people-so-far- year-highest-two-decades
Take Action and support the rights for;
Waleed Abu al-Khair, a lawyer who defended the rights of many Saudis, and who received a 15 years sentence for setting up a human rights organisation and as a punishment for his human rights activities.
Raif Badawi, he was given 50 lashes in public in January and has 950 lashes and nearly 10 years in prison left to serve and that is mainly for blogging which 'violates Islamic values and propagates liberal thought.
Ashraf Fayadh a 35-year-old Palestinian poet who is sentenced to be executed by the Saudi Arabian authorities for apostasy.
View latest posts