March with us to show solidarity with refugees on 12 September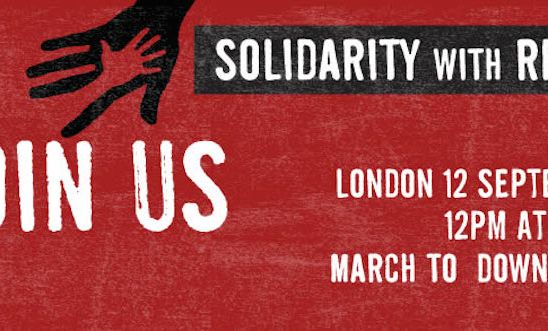 Join the Solidarity with refugees March in London, to show solidarity with refugees.
With popular opinion making a difference over the last week, this Solidarity March could make a real change, could it not?!
Over 84,000 people have said they will attend. Why don't you?
Saturday 12 September 2015
Start:We will assemble at 11.30am at Hyde Park Corner tube station, London
Finish: The route will be to Parliament and should finish at around 2pm
 The director of Amnesty International UK, Kate Allen will be speaking to the crowd before the march sets off, and after the march finishes there will be speeches and performances. So join in and you could be making a difference.
What to bring: Download a #refugeeswelcome sign, print out and bring it with you.   
Ros Eriera, the organiser of this March has all the information you need to know about it.
Follow the link;
https://www.amnesty.org.uk/blogs/yes-minister-it-human-rights-issue/march-us-show-solidarity-refugees-12-september
View latest posts