Write for Rights Saturday at The Balmoral Centre, Westcliff-on-Sea 13th December 2014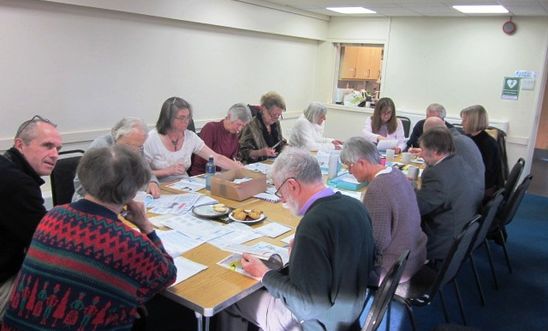 This is the second year we've held our annual "Write for Rights" event at the Balmoral Centre in Westcliff-on-Sea and once again we had a successful time.
There were 15 of us and altogether we wrote 181 cards and letters - and we also sent off several e-mails and signed a couple of on-line petitions. And we've had a reply to an e-mail sent to John Janette Solstad Remo in Norway.
Thank you so much for your solidarity, your engagement and your warm support! Please give my best regards to the Southend Amnesty Group. You really help me to continue the struggle.
Best wishes to you all from
John Jeanette
Thanks to everybody who helped prepare for the event, to those of you who came along and to those who made a donation to the postage costs.The tea/coffee and mince pies were particularly welcome! Thanks also to Trisha at the Balmoral Centre for her help and for making us welcome.
If you're interested in details we sent:
130 support cards to individuals

51 appeal letters to officials
If you were unable to come along and would still like to write a card or letter, details and guidance can be found on the AI UK website.
Best wishes for a peaceful Christmas and a prosperous New Year. Hope to see you at our next meeting on 8th January 2015 at .Avenue Baptist Church, Milton Road, Westcliff-on-Sea SS0 7JX
View latest posts