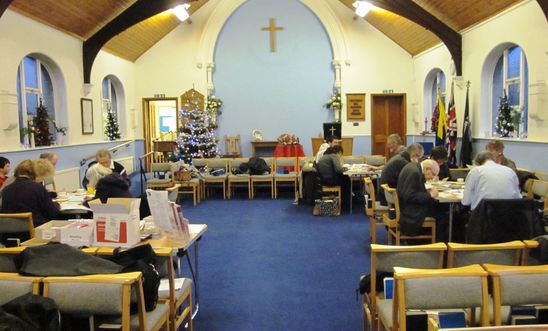 The Group's annual "Write for Rights" event was held this year at Hockley & Hawkwell Methodist Church in Main Road Hockley on Sunday 9th December.  Thirteen of us wrote a total of 115 cards and letters, signed one on-line petition and sent two on-line messages of support.  We also ate 18 mince pies and drank several cups of tea and coffee!
Of the 115 cards and letters, 42 were appeal letters to various ambassadors, ministers and presidents, the other 73 were letters and cards of support to people suffering human rights abuses and to their families and supporters.  Cards and letters went to Afghanistan, Azerbaijan, China, Egypt, Honduras, Iraq, Japan, Kenya, Libya, Russia, South Africa, Syria, the USA and Zimbabwe. Recipients included Hakamada Iwao who has been on death row in Japan for 44 years, "Pussy Riot" in Russia and Azza Suleiman in Egypt who was attacked by police at a Tahrir Square demonstration.
Thank you to everybody who came and wrote, to Hockley & Hawkwell Methodist Church who let us use their premises and to anybody who made a donation toward our postal and other expenses - this year we spent £76 on stamps!
View latest posts