WRITE FOR RIGHTS 14th DECEMBER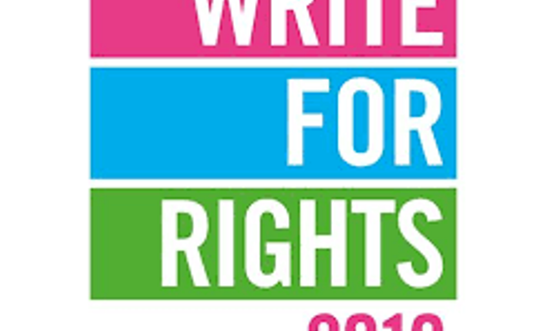 Thank you to everybody who supported our WfR Card and Letter- writing event last SaturdaY 14th December, either by coming along to write letters, helping with publiicity or making donations towards postage costs.
There were 14 of us there, writing, e-mailing and tweeting and we've sent out 90 cards and letters, plus several e-mails and tweets. And we ate quite a bit of cake!
Donations towards postage, including £47 in the collecting box on Saturday morning, came to £127, which covered postage and the costs of cards and envelopes, etc.  Thanks again for your generosity.
THE GROUP WILL NO LONGER MEET ON A REGULAR BASIS BUT WE'LL KEEP IN TOUCH VIA E-MAIL - UNLESS YOU TELL US TO STOP! AND WE'LL TRY TO ORGANISE A WfR EVENT NEXT YEAR. THAN YOU FOR YOUR SUPPORT OVER THE THE YEARS.
If you weren't able to come on Saturday you can still take part in the Write for Rights campaign - full details of the campaign including letter-writing guidance including the campaign bookle can be found at
and there are e-mail links at
View latest posts