SOUTHEND GROUP OCTOBER NEWSLETTER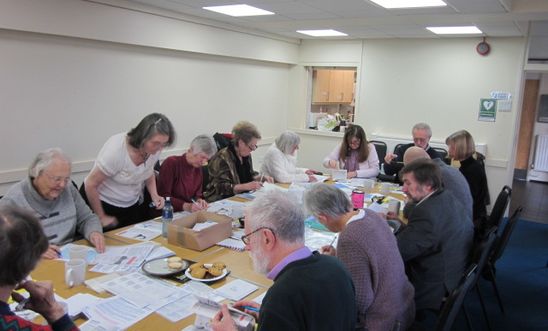 Our Write for Rights event 2014
Our October Newsletter is attached, containing the notes of the meeting on 8th October plus details for letter-writing.
We wrote appeal letters on behalf of Japanese death penalty case Matsumoto Kenji and Oman blogger Muawiya al-Rawahi and again sent cards of support to Yevgeny Vitishko. If you want to write on any of these you can find details attached below.
On Saturday 12th December 10:00am - 1:00pm we're holding our Annual Greeting Cards and Letter-writing event at The Balmoral Centre Salisbury Avenue Westcliff-on-Sea SS0 7AU . It only takes a few minutes to write a card or letter – please come along for as much time as you can spare to give support and encouragement to someone whose rights are being abused or write to the authorities on their behalf – it could change somebody's life. Cards, stamps & details of who to write to all provided along with tea/coffee and mince pies– just bring a pen! If you can't come we'd appreciate a donation to help cover postage costs – last year we sent around 200 cards and letters and airmail is now £1 minimum. Cheques payable to Southend Amnesty Group please, to 36 Orchard Avenue, Hockley SS5 5BE. There's a poster attached - please get it stuck up somewhere!
Also coming up :
Regional Conference 31st October Cambridge – more details promised shortly
Chelmsford AI Group "Big Brother and Human Rights" this Saturday 24th October, Friends' Meeting House, 82 Rainsford Road CM1 2QL – talk by Dr Guaragh Murray  Director of Essex University's Human Rights Centre. Followed by Amnestea.
AI UK is holding a FREE on-line Human Rights Course on Freedom of Expression 17th November to 8th December. You can register and take part at https://www.edx.org/course/human-rights-right-freedom-expression-amnesty-internationalx-rights1x
Downloads
View latest posts