SOUTHEND GROUP NOVEMBER/DECEMBER 2017 NEWSLETTER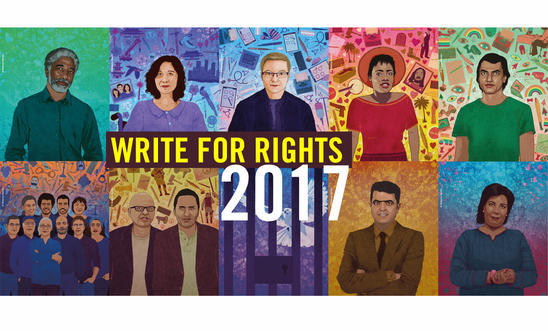 Write for Rights 2017
You'll find our Monthly Group Newletter attached below along with a poster and flyers for our Write for Rights event on 9th December and details of 3 actions.
There's no monthly meeting in December  - our next monthly meeting is on Thursday 11th January  - but
Please come to our Write for Rights card and letter-writing event on Saturday 9th December 10:00am – 1:00pm at The Balmoral Centre, Salisbury Avenue, Westcliff-on-Sea SS0 7AU.
Letter-writing guidance, pens, paper, envelopes provided – along with tea, coffee, soft drinks and cake. It only takes a few minutes to write a card, letter or e-mail but that can make a big difference to somebody whose human rights are being abused. Come along for a few minutes, half an hour – or all morning! PLEASE DISPLAY THE ATTACHED POSTER AND/OR GIVE SOME OF THE ATTACHED FLYERS TO FRIENDS.
This month please write to
1) the Turkish Ambassador about Taner Kiliç and Idil Eser and other Amnesty members being prosecuted in Turkey Turkey. (2) the Jamaican authorities about Shackelia Jackson, a housing rights rights defender featured in the Write for Rights campaign. (3) Write to your MP about Refugee rights. 
PLEASE ALSO INVITE YOUR MP TO AMNESTY'S ANNUAL HUMAN RIGHTS DAY RECEPTION AND THE LAUNCH OF THE WRITE FOR RIGHTS CAMPAIGN IN PARLIAMENT AT SPEAKERS HOUSE ON WEDNESDAY 6th DECEMBER 12:30 - 2:00PM. If you're not sure who your MP or his or her address, look at http://www.parliament.uk/mps-lords-and-offices/mps/
..... and finally - best wishes to  for Christmas and the New Year.
Downloads
View latest posts