SOUTHEND AMNESTY GROUP NOVEMBER 2018 NEWSLETTER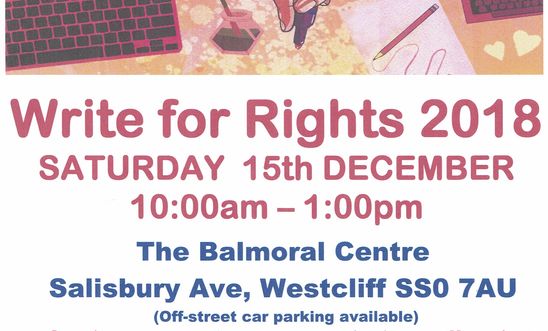 Here's our November Newsletter and notes of our November meeting.
Please follow these links and take action on behalf of:
Shahidul Alam

 - a

photographer and outspoken social activist who has been detained in Bangladesh, charged solely for exercising his right to freedom of expression.

Seyi Akiwowo (UK) who was bombarded with on-line abuse but got

little or no help from Twitter
We hope to see you at our annual Write for Rights event on Saturday 15th December 10:00am till 1:00pm at The Balmoral Centre, Salisbury Avenue, Westcliff-on-Sea SS70 7AU.
THIS YEAR THE FOCUS IS ON WOMEN and on 12 individuals or groups who have had their freedoms denied. Please come and send cards or letters to them or on their behalf - letter writing guidance is available and in some cases translations of greetings and messages. Cards, paper, envelopes, pens are provided - along with tea/coffee and cake! PLEASE COME - EVEN IF YOU ONLY POP IN AND WRITE A SINGLE CARD OR LETTER YOU COULD HELP TO RIGHT A WRONG OR CHANGE A LIFE. If you can't come but would still like to give us your support we'd appreciate contributions toward the cost of postage (an airmail stamp is now £.25). Please send donations to Amnesty Southend Group, c/o 36 Orchard Avenue, Hockley SS5 5BE. There's a poster attached - please get it displayed somewhere (legally!) if you can.
View latest posts