Exhibition at Westcliff High School for Girls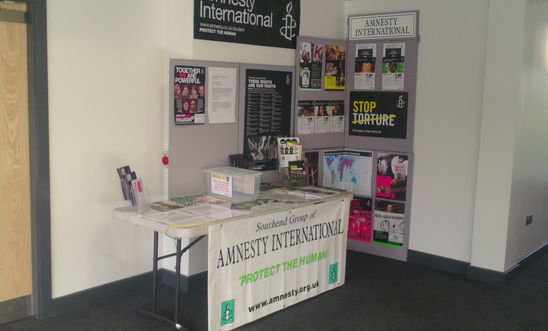 Southend Amnesty group set up an exhibition in the Sixth Form Centre of Westcliff High School for Girls during November. The stall, displayed in the foyer of the Sixth Form Centre, focused on the plight of torture victims around the world, providing students with an insight into victims lives and an opportunity to show solidarity with ordinary people in different countries suffering horrific human rights abuses. The exhibition, which also provided information about a range of Amnesty's work and included a petition supporting the ratification of the 'UN Convention on the Rights of the Child', was well received and around one hundred and fifty 'postcards of protest' were completed by students and subsequently sent to the governments of victims of torture. Many students also signed the 'UN Convention on the Rights of the Child' petition.
The Southend Amnesty group would like to extend a very warm thank you to all those students and parents that participated in supporting Amnesty and would like to wish them all a happy Christmas and every success in the new year.
View latest posts