East Anglia Regional Conference 2012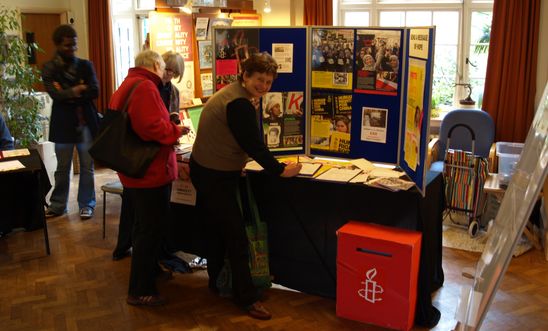 Southend group member Sonia Walton signs yet another petition!
Amnesty's East Anglia Regional Conference took place at the Friends Meeting House in Cambridge on 1st December 2012.  Martin and Sonia attended on behalf of the Southend group.  
The conference was well attended despite the freezing cold weather.  Tim Hancock gave an informal briefing on recent developments at Amnesty HQ followed by lunch and then a skill share and campaign session organised by Cambridge Amnesty Group.
Finally we had a debate on whether "The UK Human Rights Act is Good for this Country".  Julian Huppert, Liberal Democrat MP for Cambridge proposed the motion, and Martin Collier, barrister and head of Fenners Chambers in Cambridge, argued against the motion. The motion was overwhelmingly endorsed by those present.
View latest posts