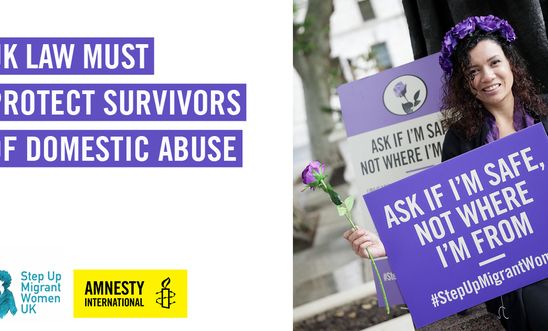 Amnest UK have asked us to help to try and improve the Domestic Abuse Bill – legislation which provides a clear opportunity to ensure all women have significant protections against domestic abuse. In its current form however, the Bill fails to provide protection for some of society's most marginalised and isolated victims, particularly migrant women.
This Bill  is scheduled to begin Committee Stage in the Commons on Thursday 4th June.
Rebecca Harris MP is one of the 17 MPs who will sit on the Committee to scrutinise and amend the Bill.
If Rebecca Harris is your MP Amnesty UK would like you to:
Email Rebecca as soon as possible to share the attached briefing and ask for a video or phone call to discuss the issue further. There's also a template email to use when sending on the request and briefing but this will need amending to reflect your position on the issue.
Should you be successful in securing a meeting, Amnesty UK will ensure you are fully prepared, including with answers to any questions you might be asked. This will include ensuring you are confident to speak about the amendments for ehich we are asking for support .
 The Bill Committee will start sitting on Thursday 4th June and will continue for approximately three weeks. So, if this is something you can support with, it is essential that you get in touch with him as soon as possible.
If for any reason you are unable to 'meet' with Rebecca via video or phone call, please do still email her and share the attached briefing (template for this option within the same document attached)
If you do email Rebecca Harris, please let Mike know at amnestysouthend@gmail.com. If you do manage to secure a "meeting" or have any questions please to contact  Tom at mypolitician@amnesty.org.uk at Amnesty UK and he'll make sure you're prepared for it.
Further information
What is the Domestic Abuse Bill?
The Domestic Abuse Bill has been billed as a landmark piece of legislation by the Government, and it does provide a clear opportunity to ensure women, predominately those living in England and Wales, have significant protections against domestic abuse.
But in its current draft, the Bill leaves behind society's most marginalised and isolated survivors of domestic abuse, particularly migrant women. It does nothing to address the unequal system that so often leaves migrant women facing the impossible choice of becoming destitute and homeless, or staying with an abuser. As a result, it fails to fully meet the requirements of the Istanbul Convention (IC), despite the Government's stated intention to incorporate the IC through the introduction of this Bill.
To date, a significant amount of evidence has been submitted to the UK government by rights holders, groups, organisations and other experts, clearly showing that migrant women without secure immigration status find it virtually impossible to seek protection when experiencing domestic abuse. Currently, migrant women experiencing domestic abuse fear reporting to the police (because of the risk of detention or deportation) and many are unable to access refuges because of not having access to public funds.
As such, it is extremely alarming that migrant women are not mentioned anywhere on the face of this proposed legislation.
 What have Amnesty International UK been doing on this?
Since 2017 Amnesty International UK has been working in collaboration with the Step Up Migrant Women coalition – a network of over 40 frontline black, Asian and minority ethnic (BAME) and specialist domestic abuse service providers and human rights organisations – to ensure the Bill provides equal protection to all survivors, regardless of immigration status.
To date, we have worked with the coalition to influence both the Government and Parliament. Most recently, this included the Joint Committee on the Bill's published report, which included a number of recommendations we had been calling for.
Previous stages of the Bill
On 28th April 2020, the Bill had its Second Reading, during which a number of MPs from various parties (Labour, Conservative and Scottish National Party) spoke in favour of the Bill being amended to ensure migrant women can access protection.
                                         *****************************
View latest posts