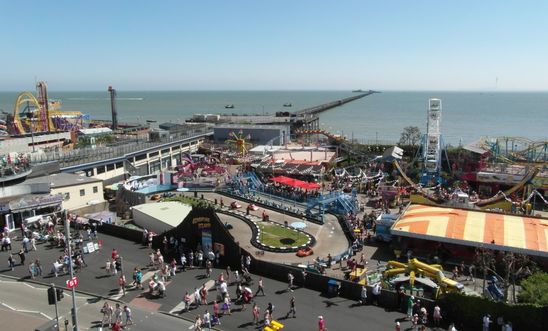 Welcome to Southend Amnesty Group, a group of local unpaid volunteers campaigning for Human Rights. We're part of the UK Section of Amnesty International. Follow us on Facebook at Southend Amnesty and Twitter @amnestysouthend.
Southend Amnesty Group meets on the second Thursday of each month at 7.30pm, at the Balmoral Community Centre, Salisbury Avenue, Westcliff on Sea, SS07AU. Occasionally we meet in public places for activities like letter-writing, campaigning and fundraising. We have no meeting in August and our December meeting is usually an open "Write for Rights" event. If you are concerned about justice and oppression you will be very welcome at our meetings, which almost invariably include card and letter writing on behalf of victims of human rights violations all over the world. The Group is also involved in publicising Amnesty's work and principles locally, via exhibitions and talks to all kinds of local organisations. Each month the UK Section of Amnesty International sends us a "Monthly Action" on behalf an individual or group of individuals on whose behalf we send letters and e-mails, these actions are also carried out by other Groups in this country and abroad. Each year we hold a card-writing event as part of Amnesty International's "Write for Rights" greeting card campaign. Local artist Sheila Appleton allowed us to produce a card from one of her paintings that we can use to send out as part of our campaigning. They can also be used as notelets and can be bought from the Group for 5 for £1 (£1.70 including p&p)
Why I joined Amnesty by local group members:
Audrey Regan
Compassion flowed with my Mother's milk in my home. As a consequence, for example, my Mother, brother and I would hate those mornings when we knew someone in the UK was to be hanged. Once married, my late husband and I would have The Observer propped up at the breakfast table reading about South Africa, Sharpville and then Peter Benenson's article 'The Forgotten Prisoner.' So when, later, I saw an advert for a meeting of the Southend Amnesty Group, I went along. 40 years on I am still going.
Andrew Jefferson
As a teenager, I spent time during my formative years in the Middle East ; in Ghadafi's Libya - in and around the Tripoli district. At about twenty years of age I began working for an Oil Company, became a Trades Union representative and a member of both the Local and (briefly) National Negotiating Committees of the ASTMS (now MSF) Trade Union. I witnessed the cost, first hand of the demise of the British Trades Union movement; - the Refinery I was employed with suffered progressive de manning and eventually premature closure; resulting in hundreds of redundancies. In 2002, I began a seven year association with Bahrain, travelled extensively in the region and witnessed Human rights violations 'up close and personal'. In the conduct of my work I often had to ask staff under my care: not to come in for their late shift, as to do so put them at risk of being obstructed, arrested and /or suffering serious physical harm simply for being a member of the 'wrong' community. In the 'Arab - Spring' uprising a number of my former colleagues were sacked and/or arrested  for taking part in the protests. I am for these reasons and many others: a supporter of any organisation involved in the promotion and protection of Human Rights 
Richard Wiggins
Mohamad Murd.  We never met, neither would he have heard of me. Yet he had a great influence on my voluntary work over the past fourteen years. 
In February 2000, the Southend Evening Echo reported that Iranian Kurdish asylum seeker Mohamad doused himself with petrol and threatened to set himself alight as a protest against the appalling facilities in which he lived.
Southend-on-Sea, in the early part of the 21st Century, was host to over 1,000 asylum seekers and their presence in the town generated much racist abuse.    This and other reports of hostility towards those seeking protection from war and unrest led, in 2001, to the establishment of a drop-in centre where those needing specialist advice could be seen away from the hatred of many inhabitants.    I remembered the plight of Mohamad and his loneliness amongst the hostility in which he lived.  This led me to volunteer at the centre.
It was soon after this I recognised that Amnesty International was leading the fight against the prejudice and hate facing asylum seekers which had arisen both locally and nationally.   From their literature and reports, I learned more about these people and their background, including details of the circumstances of their flight from wars which had often been generated and financed by the western powers.   About that time, I joined Amnesty and have remained a member since finding much support and information to help me fight for the rights of these people.
In September 2004, about a year before our centre closed, I held in my arms two-year-old Faisal who had come with his mother from Gaza to visit her sister in Southend and temporarily escape the hell of constant attacks by Israel.   They were hoping to apply for more permanent settlement. 
Faisal was deeply traumatised by experiences in his homeland.   He was abnormally quiet and unable to play as a normal child.  At times he would not even raise his head, the slightest noise left him shaking.  His mother told me that fireworks a few days before had terrified him, his mind relating them to the violence, fighting, oppression and terror that was and has been the everyday life of those in Gaza.    He had obviously not recovered from this. 
Whilst his mother saw social workers, I sat on the floor of the centre for about an hour talking to Faisal for about an hour before he smiled at me and we played a few games.
Faisal and his mother were not given further leave to remain.    A statistic to the politician but, once you've held a distressed or traumatised child in your arms, he can never be a statistic.
In 2008/9 Israel made one of their periodic invasions of Gaza, causing widespread destruction and many dead, an atrocity that was repeated in 2014.   The West stood by as thousands of civilians were slaughtered in the homes, schools, refugee camps ambulances and hospitals of Gaza.  I thought back to Faisal.   At two he had learned to fear: ten years on, he may now have learned to hate.
Again, Amnesty produced fair but damning reports of these invasions, 
Prior to these invasions, in November 2007, it was reported that Israel  had placed an embargo on 3,000 hearing aid batteries desperately needed by the 300 children of the Atfaluna Society for Deaf Children in Gaza, thereby contravening the Fourth Geneva Convention and the UN Convention on the Rights of the Child (1989)
Writing to the Israeli Embassy, the spurious reason I received was that the contents of the batteries could be used for bombs.   It has been proved that the acid used in these batteries is different to that needed for explosives and the quantity so small as to be impractical.
I reported this to Amnesty International, both at their UK Office and the International Secretariat in Easton Street and the issue was included in both reports and Urgent Actions
Another area that Amnesty have been highly active is on gay and lesbian issues.   Highlighting the inequalities has been a great contribution to the liberal reforms that have taken place during the past decade.
Returning to the plight of asylum seekers/refugees, Amnesty International is now at the forefront of exposing the inhumanity of many European governments in their attitude towards the thousands drowning in their flight across the Mediterranean from wars largely generated and financed by the large powers.
I remain a member of Amnesty, both locally and nationally.   As well as being active within the local group, I try to attend the London Regional Conference, which invariably attracts good speakers.  Also, where possible, I will attend the East Anglia Regional Conference.
At a time when political parties increasingly lack credibility and principle, the existence of Amnesty International is even more crucial to ensure that the many human rights' abuses throughout the world are highlighted, irrespective of the origin or nationality of the perpetrators.