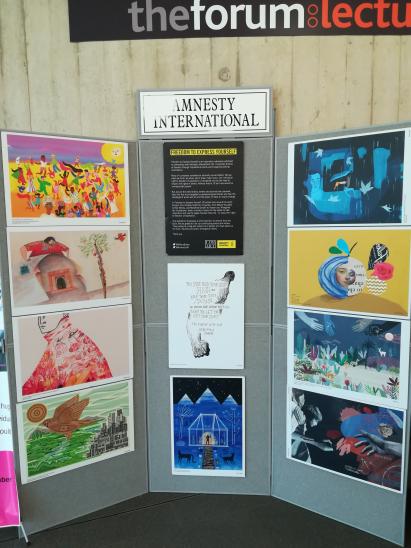 Welcome to Southend Amnesty Group, a group of local unpaid volunteers campaigning for Human Rights. We're part of the UK Section of Amnesty International. Follow us on Facebook at Southend Amnesty and Twitter @amnestysouthend.
Southend Amnesty Group no longer meets on a regular basis but carries on it's activities on line. We meet occasionally for social  and fundraising activities and in December organise a "Write for Rights" event.
If you are concerned about justice and oppression and want to write letters and e-mails etc., on behalf of people who's human writes are being abused join our mailing list - contact us at amnestysouthend@gmail.com
Why I joined Amnesty by local group members:
Audrey Regan
Compassion flowed with my Mother's milk in my home. As a consequence, for example, my Mother, brother and I would hate those mornings when we knew someone in the UK was to be hanged. Once married, my late husband and I would have The Observer propped up at the breakfast table reading about South Africa, Sharpville and then Peter Benenson's article 'The Forgotten Prisoner.' So when, later, I saw an advert for a meeting of the Southend Amnesty Group, I went along. 40 years on I am still going.
Andrew Jefferson
As a teenager, I spent time during my formative years in the Middle East ; in Ghadafi's Libya - in and around the Tripoli district. At about twenty years of age I began working for an Oil Company, became a Trades Union representative and a member of both the Local and (briefly) National Negotiating Committees of the ASTMS (now MSF) Trade Union. I witnessed the cost, first hand of the demise of the British Trades Union movement; - the Refinery I was employed with suffered progressive de manning and eventually premature closure; resulting in hundreds of redundancies. In 2002, I began a seven year association with Bahrain, travelled extensively in the region and witnessed Human rights violations 'up close and personal'. In the conduct of my work I often had to ask staff under my care: not to come in for their late shift, as to do so put them at risk of being obstructed, arrested and /or suffering serious physical harm simply for being a member of the 'wrong' community. In the 'Arab - Spring' uprising a number of my former colleagues were sacked and/or arrested  for taking part in the protests. I am for these reasons and many others: a supporter of any organisation involved in the promotion and protection of Human Rights