Voices of Light - Poetry Event 11 November 2012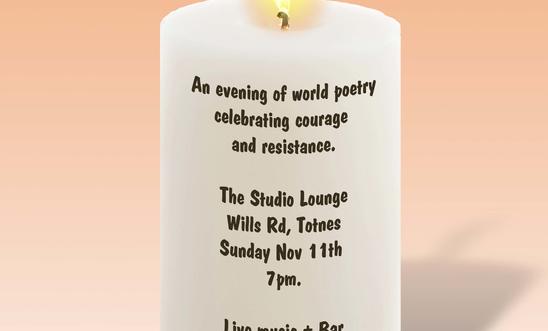 Sunday 11 November
VOICES OF LIGHT - POETRY EVENT
  On Sunday 11th November the Studio Lounge, Totnes, will pause its usual state-of-the-art music and comedy programme to host 'Voices of Light'.
  Devised by Mo Cohen, Julie-ann Rowell and Chris Waters – well-known faces and voices on the Devon poetry scene – the evening will present a broad selection of inspirational poems from international writers in translation (English!) read by an experienced team of nine readers. The event is in aid of Amnesty International, so the poems have been selected to illuminate the kinds of darkness that Amnesty so admirably challenges and confronts – poems of courage, resistance and witness. The readers also aim to acknowledge the invaluable work of the translators, who act as a bridge in bringing these different voices alive for us.
'This is a post-Olympics gathering of international voices', says co-organiser Chris Waters, 'and the Armistice Day date adds another reflective angle on the readings'.
  There will be live music interludes and a bar in a cabaret-style setting.
         Do come and help fill the Studio Lounge – and support Amnesty!
 Tickets £6 on the door. 7pm start – doors open 6.30
View latest posts