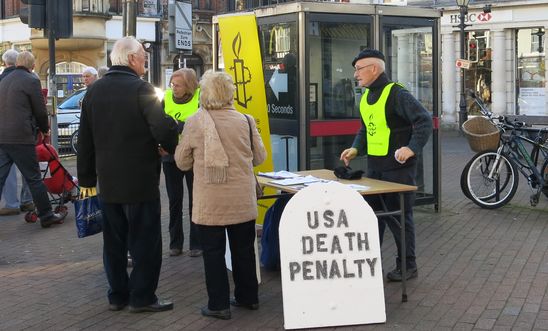 On an extremely cold day in the market place in Salisbury on 19 November, we did a signing against the death penalty and in particular for Reggie Clemons in the USA.  There was a good turnout and we collected 133 signatures. 
As ever when we do a death penalty petition, there are those who are in favour of it (the death penalty that is) and make their views known as indeed they are entitled to.  Among those were the following:
'I believe they should hang 'em'
'They should bring it [the death penalty] back here'
'String 'em up - string them all up'
'I believe in an eye for an eye.' 
It is salutory that there are many who still believe in the death penalty despite the many miscarriages of justice. 
If you want to comment on this or any other blog please go to: https://www2.amnesty.org.uk/user/register or tweet
Downloads
View latest posts