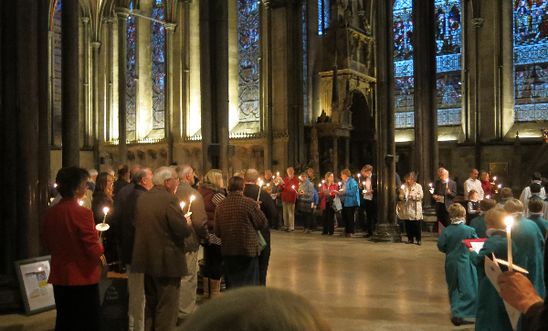 End of the Cathedral service in the Trinity Chapel © Peter Curbishley
On Thursday 17th, there was a service for Amnesty at the Cathedral attended by over 80 people.  We were pleased to welcome the Rev Nicholas Mercer who gave the sermon.  Nicholas is well known because of his battles with the army and human rights particularly in view of the treatment of some Iraqis by some soldiers.  There is a link below to his background and the award of 'human rights lawyer of the year' .  His sermon was hard hitting and shocking and he described in graphic detail the use of the 'five techniques' by the Army which were banned in 1978 but which are still being used on prisoners. 
A full account of his sermon will appear in the newsletter due out later this month. 
This year there was an opportunity for celebrants to sign a petition and it will be on behalf of Reggie Clemons in the USA.  A factsheet giving the background is attached.  We are pleased to say we collected 45 signatures.
If you want to comment on this or any other post please go to:
https://www2.amnesty.org.uk/user/register
Downloads
View latest posts