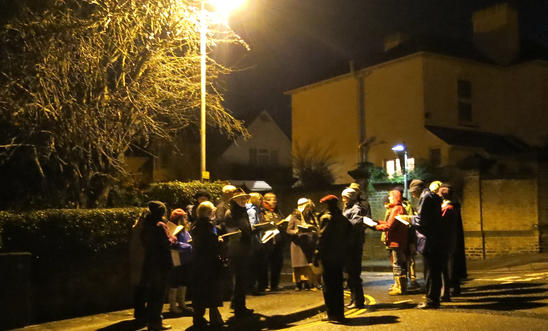 Farrant Singers singing carols under a lamp post © PCurbishley
The local group teamed up with the Farrant Singers again this year to sing carols in some of the streets around Salisbury.  Indeed, for the first time, we had two separate groups of singers who met and sang together in Victoria Road after singing separately in Belle Vue Road, College Street, Marborough Road and Selwyn Road among others. 
Afterwards we had soup and cheese at Chantal and Michael's house to whom many thanks.  We were extremely lucky with the weather which in the period just before we left was very windy and wet.  Luckily, it stopped just in time for our departure. 
Many thanks to the Farrants and to Jonathan and Thomas who went round letting people know we were coming.
If you want to comment on this or any other post go to https://www2.amnesty.org.uk/user/register
View latest posts