June Oxford City Amnesty Group Meeting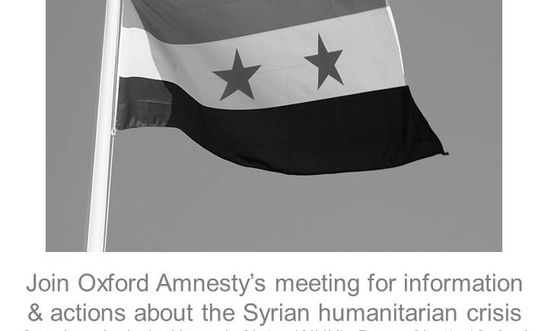 As this month's group meeting coincides with Refugee Week, we will be hosting an open and free special edition of our monthly group meeting by inviting local and national guest speakers to talk about the humanitarian crisis in Syria, the UK Government's response to date and low local cities, including Oxford, have the power to directly support some of the most vulnerable of Syrian refugees.
Experienced activist and expert Hannah Slater (Amnesty UK's Country Co-ordinator for Syria) and local and distinguished Dawn Chatty (Professor of Anthropology and Forced Migration and Former Director of the Oxford Refugees Studies Centre 2011-14) will set the situation in context. Cllr. Julian Roskams, co-sponsor of a successful motion to resettle Syrian families in Malvern will tell us about the inspirational camgain, led by Malvern Hills Amnesty Group, which saw the Council vote to allow 60 Syrian refugees to be resettled in Worcestershire.
This event is free and open to all.
When: Tuesday 16th June
What time: 7:15pm
Where: Oxford Town Hall 
View latest posts